Is Kate Marrying William Or Harry? Royal Wedding Mug Mess-Up!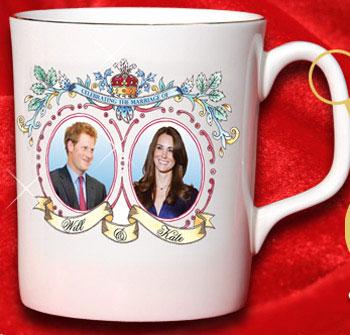 As the future King of England and the groom in the wedding of the decade, it would be safe to assume that everyone knows what Prince William looks like, but a company in China still managed to confuse him with little brother, Prince Harry, RadarOnline.com has learned.
Guandong Enterprises from China have released a mug to commemorate the royal wedding with Prince Harry smiling cheekily at bride-to-be Kate Middleton -- and Will's name painted underneath.
Article continues below advertisement
With his mop of red hair and boyish freckles, Harry doesn't look anything like William so it's hard to imagine how the mix-up happened... unless there's something the pair aren't telling us!
The site calls the April 29 wedding: "The Fairytale Romantic Union Of All the Centuries" and invites shoppers to: "Please be our guests to own this esteemed limited edition heirloom to celebrate your work associates, friends, family and loved ones on April 29th."
The creators of the unique memorabilia are careful to point out that the Drinkware Royal Wedding Souvenir Cups are: "not supplied to, or approved by, Prince William of Wales, Catherine Middleton or any member of the royal family."
Perhaps if they were then they'd have the right brother on there!
RELATED STORIES:
EXCLUSIVE: Kate Middleton 'Used Bad Girl Techniques' To Snag Prince