LIVE: Mel Gibson Expected To Plead 'No Contest' To Misdemeanor Battery - Watch It Here!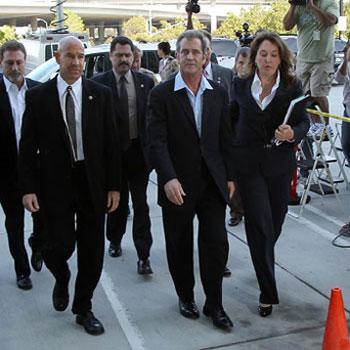 Mel Gibson is expected to plead 'no contest' Friday afternoon to a misdemeanor battery charge as part of a plea bargain related to a domestic violence incident involving his then-girlfriend Oksana Grigorieva back in January, 2010 and RadarOnline.com will be bring it to you live.
Watch Mel Gibson live in court on RadarOnline.com.
Legal experts say Gibson could have faced a more serious charge of 'corporal injury on a spouse', which, if convicted, could have involved fines, jail or prison time, and court-ordered counseling.
Article continues below advertisement
LEGAL DOCUMENT: Mel Gibson Officially Charged With Battery
In exchange for Gibson's 'no contest' plea to the simple battery charge, he is not expected to serve any jail time.
According to Gibson's attorney Blair Berk, the father-of-eight has decided to take this route out of respect to his kids.
"I know from almost 20 years as a criminal defense lawyer that sometimes justice can come for a client at too high a personal price," Berk said in a statement Wednesday. "That is particularly so for Mel, whose right to due process can only be exercised in this case with an enormous media circus attached."
Gibson's plea will mark the end of a chapter all brought to light when RadarOnline.com last summer released world exclusive tapes of the Academy Award winner lashing out at his baby's mother with a tirade of racist, sexist and threatening statements.
EXCLUSIVE FIRST PHOTOS: The Injury To Oksana's Teeth
Among the low-lights of Mel's self described "rantings" in the aforementioned tapes included when a calm Grigorieva told Gibson, "I did not do anything and I apologize for nothing," Gibson responded, "You apologize for nothing? Well then you're a dishonest c---!"
Article continues below advertisement
In another chilling exchange, Grigorieva told Gibson, "You were hitting a woman with a child in her hands. You! What kind of a man is that, hitting a woman when she's holding a child in her hands?
"Breaking her teeth, twice, in the face," Grigorieva said. "What kind of man is that?"
"You know what, you f------ deserved it!" Gibson said. "I'll put you in a f------ rose garden, you c---. You understand that? Because I'm capable of it. You understand that? Get a f------ restraining order. For what? What are you gonna get a restraining order for? For me being drunk and disorderly? For hitting you? For what?"
MEL AUDIO TAPE: Mel Gibson Admits Hitting Oksana, Threatens To Kill Her
Outrageous meltdowns have landed The Passion director in hot water before, most notably during his infamous 2006 drunk driving arrest in his hometown of Malibu, in which he allegedly said, "F------ Jews ... the Jews are responsible for all the wars in the world," before turning to a female officer and saying, "What do you think you're looking at, sugar t---?"
Article continues below advertisement
Gibson's career has also sputtered in the wake of the bad publicity, as he's only had one film released since the July 2006 incident, 2010's Edge of Darkness, which drew a mediocre $43 million at the box office. A cameo role in The Hangover 2 (which could have signaled Hollywood's acceptance of Gibson post-Oksana scandal) was overwhelmingly nixed by cast and crew, as Liam Neeson would get the role instead.
Article continues below advertisement