Exclusive
EXCLUSIVE: NJ Housewife Teresa Giudice Punched In Face By Bar Thug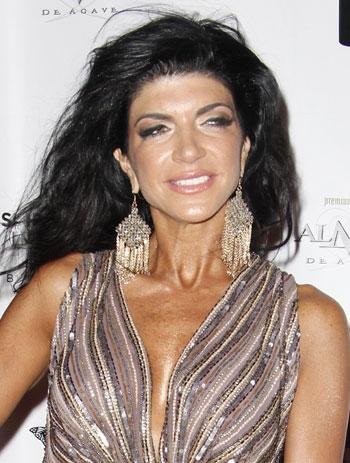 The Real Housewives of New Jersey's Teresa Giudice is known for causing a scene, and that's just what she did while vacationing with the cast in the Dominican Republic last month – leading the star to be punched in the face and several of her cast mates in police custody!
RadarOnline.com has exclusively learned Teresa was the reason behind the February 23 bar brawl at the Hard Rock in Punta Cana and it was her playful antics that didn't sit well with at least one bar patron in particular.
Article continues below advertisement
"It was late, they were on vacation, and she was just having fun," said a show insider.
"She opened the champagne and just started spraying it everywhere and it went all over this woman near her."
According to the source, the drenched woman's husband did not take kindly to the rowdy group and physically attacked Teresa.
"It was crazy, he got really angry and punched Teresa in the face!"
RadarOnline.com previously reported that all the cast members partied at their hotel bar at about 1 am on February 23, including Caroline and her husband Albert, Jacqueline and Chris Laurita, Teresa and Joe Giudice, newcomers Kathy and Richy Wakile, Joey and Melissa Gorga, the Manzo children (Chris, Albie, and Lauren) and roommate Gregory Bennett.
"Joe, Albie and Chris were trying to protect Teresa and they just grabbed the guy and started fighting, and then people joined in.
"Bravo helped to break up the fight," added the source.
"Everyone was involved. It became a massive scene," another source previously explained.
But it turned physical with about eight people involved, police told RadarOnline.com.
"Usually when there's a fight we take one guy, but this time we took everybody," the police representative said.
Article continues below advertisement
EXCLUSIVE: Sons of NJ Housewife Caroline Manzo Offered Reality Show Spin-Off
According to our source, Joe was "beating on the guy" and struck a male patron with a glass.
Police said the injured patrons made the complaint to police.
According to police in the Dominican Republic, the two injured "victims" were Americans Adolfo Arriolla, who had a fracture in his arm, and Jason Gomez, who had a fracture in his leg and scratches on his face.
Others involved had bruises.
When authorities arrived, Arriolla and Gomez, along with Joe, Albie, Christopher and Gregory were detained and taken to the police station where their passports were seized, said our source. Local attorneys came in to smooth over the situation.
According to our source, the fight will not air on the upcoming season of The Real Housewives of New Jersey.
When contacted by RadarOnline.com for comment, Bravo declined.