EXCLUSIVE: Joe Giudice and NJ Housewives Cast Members Detained By Police Overseas After Bar Fight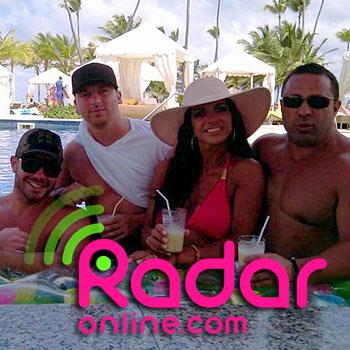 From New Jersey to the Dominican Republic, Real Housewives of New Jersey house hubby Joe Giudice just can't escape trouble with the law.
RadarOnline.com has obtained exclusive new details about who was involved in the bar fight -- and hauled away by police -- while the cast was on vacation late last month for the upcoming season of the hit Bravo show.
A late night bar brawl led to Teresa Giudice's burly hubby being detained by police along with Caroline Manzo's sons Albert Jr. (known on the show as Albie) and Christopher, and their roommate Gregory Bennett.
Article continues below advertisement
According to our source, all the cast members partied at their hotel bar at about 1 am on February 23 at the Hard Rock in Punta Cana, Dominican Republic, including Caroline and her husband Albert, Jacqueline and Chris Laurita, Teresa and Joe Giudice, newcomers Kathy and Richy Wakile, Joey and Melissa Gorga, the Manzo children (Chris, Albie, and Lauren) and roommate Gregory Bennett.
According to police, they don't know who started the fight, but our source says that after the New Jersey clan popped open a bottle of champagne which accidentally sprayed on surrounding patrons, it led to the bar brawl with other male patrons.
"Everyone was involved. It became a massive scene," the source told RadarOnline.com.
But it turned physical with about eight people involved, said police when contacted by RadarOnline.com, including Joe, Albie, Christopher and Gregory, who were defending the women.
EXCLUSIVE: Sons of NJ Housewife Caroline Manzo Offered Reality Show Spin-Off
"Usually when there's a fight we take one guy, but this time we took everybody," the police representative said.
Article continues below advertisement
According to our source, Joe was "beating on the guy" and struck a male patron with glass.
Police said the patrons injured made the complaint to police.
According to police in the Dominican Republic, the two injured "victims" were Americans Adolfo Arriolla, who had a fracture in his arm, and Jason Gomez, who had a fracture in his leg and scratches on his face.
Others involved had bruises.
When authorities arrived, Arriolla and Gomez, along with Joe, Albie, Christopher and Gregory were detained and taken to the police station where their passports were seized, said our source. Local attorneys came in to smooth over the situation.
The cast was scheduled to fly home Thursday, February 24 and everyone left on time except for those who were questioned by police. Teresa also stayed behind to be with her husband.
Those involved were detained until the afternoon of Wednesday, February 23 when a verbal agreement was reached between all parties and no charges were filed, according to police.
Our source added that they were under supervision at the Hard Rock Hotel until they returned home days later on Sunday, February 27.
Article continues below advertisement
As New Jersey Housewives fans will be aware, this isn't the first time Joe has seen the inside of a police station or taken part in a public fight. Just last year he served eight days of a 10-day sentence after turning himself into New Jersey police for driving on a suspended license, as RadarOnline.com first reported.
The hot-headed Italian also got into a physical brawl with brother-in-law, Joey Gorga, at a baptism reception surrounded by friends and family.