Exclusive
EXCLUSIVE: Lindsay Lohan's New Legal Consultant Vows 'My Team Will Do Everything To Keep Her Out Of Jail'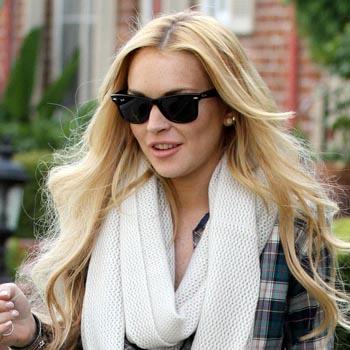 Lindsay Lohan is facing up to 90 days behind bars if she pleads guilty to stealing a $2,500 necklace, but RadarOnline.com has new details from Keith Middlebrook who claims his hard hitting legal team will spare her from doing any time.
Keith Middlebrook -- who owns Pro Sports Capital Management -- says his highly successful group of lawyers has cleared up the legal dramas of numerous top athletes in the past and he is willing to let them do the same for Lindsay.
Article continues below advertisement
"I have spoken to Lindsay for well over 30 hours and she is innocent," he told RadarOnline.com in an exclusive interview. "She checks in with me twice a day. And we will do everything we can to keep her out of
jail.
"I am not claiming to be an attorney, but I do have a huge legal team that I use for my pro athletes, who I get out of trouble.
"I have been hugely successful at doing that. I have some very powerful attorneys plus connections with the DA's office and I want to use that to help her.
"We work to get my clients - some of which are the biggest pro athletes on this planet - out of situations with total confidentiality."
Middlebrook - who is set to direct Lindsay's come-back movie Escaping The Game - says he stepped in to help the troubled star after Lindsay personally contacted him.
And he says the timing could not have been better since he claims her attorney, Shawn Holley, was planning on accepting a plea, placing Lindsay behind bars.
Article continues below advertisement
"Shawn was going to accept or make a plea negotiation that included possibly 6 months of jail time," he claimed.
"Based upon a review of the necklace accusation and whether or not the probation was violated, my team's opinion was that would be absolutely ludicrous to accept a plea of any guilt and jail time."
Meantime, Middlebrook says that Lindsay is not letting her legal woes drag her down, and that she is remaining healthy and happy in spite of her troubles.
"From Hollywood to her home in Venice, I have spent many hours over the days with Lindsay and I can personally attest she is focused and committed to her career, sobriety, fitness, family and global charitable contributions," he attested.
And Middlebrook also wanted to address comments made by Nathan Folk, the producer of Escaping The Game, that if Lindsay goes to jail it will be because of "foul play" on behalf of the LAPD.
Article continues below advertisement
"The LAPD is in no way, shape or form guilty of ANY foul play, they unselfishly put their lives on the line everyday for the safety, wellbeing and protection of all citizens in the toughest city in America," he said. "I am proud of their service to the community. Implying that the LAPD was involved in any foul play concerning this case is completely absurd."
RELATED STORIES:
EXCLUSIVE: Jewelry Store Is 'Destroying Lindsay's Life Just To Make A Buck' Says Her Pal