Exclusive
EXCLUSIVE: Lindsay Lohan No Longer Talking To Her Dad, Says Mom Dina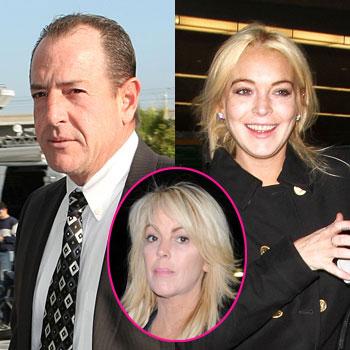 Lindsay Lohan is no longer talking to her father Michael, RadarOnline.com has exclusively learned.
"She is not talking to her dad now," Lindsay's mom, Dina Lohan told RadarOnline.com in an exclusive new interview.
Lindsay and Michael have always had a tumultuous relationship over the years, with Michael blaming the break-up of his marriage to Dina for his daughter's problems and Lindsay slamming her father for his habit of talking publicly about her.
Article continues below advertisement
VIDEO & PHOTOS: 'Stressed-Out' Lindsay Lohan & Family Arrive In New York
And it seems Michael's decision to appear on Dr. Drew's Celebrity Rehab, to get treatment for his "anger issues" has only helped to damage even further his already delicate relationship with Lindsay.
As RadarOnline.com exclusively reported, Lindsay recently refused an invitation from her father to visit him (in front of Celebrity Rehab cameras) for 'family day' at his treatment center in Pasadena.
According to a source close to the situation: "Michael Lohan wanted Lindsay, Ali, and the rest of the family to come for 'family day.' Michael even wanted Dina to come."
But that's news to the ex-Mrs. Michael Lohan!
"I was never even asked to go to 'family day,'" Dina told RadarOnline.com. "I have a criminal stay away order in place. He can not come within 100 yards of me. I would never go to see him on 'family day', or on camera, ever.
Article continues below advertisement
"We have been apart for 15 years, and there are things that need to be worked out privately."
According to the source, Michael was very upset by his family's refusal to be there for him and he shared his emotional experience during the VH1 reality show taping.
EXCLUSIVE: Lindsay Lohan 'Cleans House' -- Dumps Old Management AgencyAnd Signs With New
"I don't disapprove of him getting help, but he has to be 100% honest or he can't get better," Dina explained. "My children would never go in public and sit with him."