Exclusive
EXCLUSIVE: Lindsay Lohan Refused To Visit Dad on 'Family Day' at Celebrity Rehab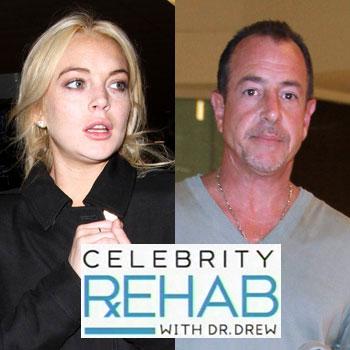 Graduation day on Celebrity Rehab is set for this Sunday, March 20, and sources connected with the show tell us that 'family day', which took place over the weekend, was "major drama." The drama ensued on Sunday as families were brought together with their loved ones on the set of Celebrity Rehab 5.
The drama began when cast member Michael Lohan "wanted Lindsay, Ali, and the rest of the family to come for 'family day.' Michael even wanted Dina to come. They all refused, they don't want to appear on camera in that setting, period. Michael was very upset and emotions were very raw for him. Soon, thereafter, all hell started to break out between other patients and families," a show insider tells us. Viewers will be in for "quite a shock when it airs," the source says.
Article continues below advertisement
Dr. Drew "handled the mayhem with pure professionalism, as he always does. Dr. Drew has had his hands full with this cast. First, he had to deal with (Real Housewives of DC star) Michaele Salahi and all of her issues, which resulted in her being discharged last week," the source says.
Other pseudo-celebs to join the show include former NY Mets pitcher Dwight "Doc" Gooden, actress Bai Ling, and former Baywatch hunk Jeremy Jackson.