Exclusive
EXCLUSIVE INTERVIEW: Jeweler's Rep On Lindsay Case: We'd Do A Book Or A Movie!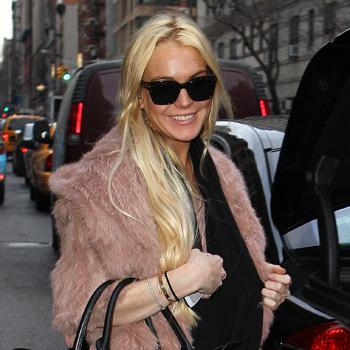 A representative for the jewelry store that tried to sell a book about the Lindsay Lohan theft case tells RadarOnline.com that a movie deal would be even better!
Lohan, 24, is currently facing a felony grand theft charge after allegedly stealing a "one of a kind" necklace from Kamofie and Company in Venice Beach, California.
The jewelers have already been criticized for selling surveillance video allegedly showing Lohan stealing the $2,500 necklace, and on Wednesday, RadarOnline.com confirmed that a representative of the jeweler approached a book agent to inquire about selling a book on the incident.
Article continues below advertisement
In a contradictory and somewhat bizarre interview, the store's rep, Christopher Spencer told RadarOnline.com: "We have no book deal pending. If a legitimate publisher would feel that a book is something they would like to pursue, why not?
"Give us a call. This isn't going to change anything in the case whatsoever. Frankly, a movie deal would be even better, but does anyone really care?
"If they care, we'll do it and be honorable, faithful and accurate about it. I'm doubtful but sure, bring it on.
"I have personally authored a book with a major publisher, and there's not a lot of pay and there is sure a lot of work, but it might be an easier way to get the story out than responding to daily calls and emails asking us to reply to stories like this.
"The fact that anyone cares about such things is beyond me. If you know of any good book offers, please notify me. We'll consider giving that money to a good charity too.
Article continues below advertisement
"Right now, we're working on identifying the charity to receive the proceeds of the necklace auction.
"There is a case pending. We re-state our position that Lindsay Lohan has to receive a fair trial. Let's not lose sight of that fact and that someone's freedom is at stake. Let the jury handle it."
RadarOnline.com first broke the story that the jewelry store sold the surveillance tape for more than $35,000 and Spencer told us at the time that the Lohan incident had hurt business. He was quoted in other reports as denying the dollar figure, but RadarOnline.com confirmed it with multiple sources.
On Wednesday, literary agent Sharlene Martin to us that she was approached by a representative for the jeweler. "He said he is the publicist for the jewelry store, and that they want to do a book about the Lindsay Lohan necklace story," Martin said, adding she turned down the idea immediately.
Spencer dodged RadarOnline.com's question when asked if he was the rep who approached Martin.
A source close to team Lindsay told RadarOnline.com that the jewelry store's attempts to cash in on the situation is "appalling."