EXCLUSIVE INTERVIEW: OC Housewife Tamra Barney Says She Saw Man Who Drugged Her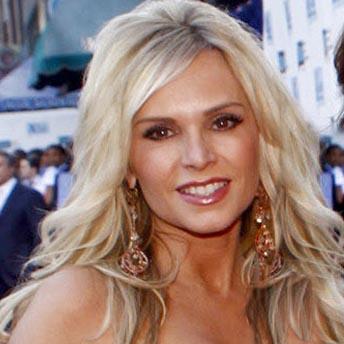 Real Housewives of Orange County star Tamra Barney isn't taking her alleged "roofie" incident lying down. In fact, she tells RadarOnline.com exclusively that her legal team is looking for any evidence that could answer a few questions about the now fuzzy night over the weekend that almost landed her and a co-star in the hospital.
"My attorney is calling to see if there is a surveillance video," Tamra tells RadarOnline.com exclusively. "It's New York City -- there were hundreds of people in the room that night.
Article continues below advertisement
"Lots of photos were taken that night of us at our table. Maybe someone has a picture of this guy?" she asks. "It was strange that he was wearing sunglasses."
Tamra first broke news of the alleged drugging incident with Andy Cohen on Bravo's Watch What Happens Live! last Sunday, claiming: "I got roofied," referring to the date rape drug Rohypnol.
Newcomer to the hit Bravo show, Peggy Tanous, was also allegedly drugged.
Tamra, along with co-stars Peggy, Vicki Gunvalson, and NYC housewife Ramona Singer were dining together at a Big Apple bar while the OC ladies were on a press tour for the new season of the show which premiered on Sunday.
Despite her cloudy state of mind after drinking the glass of alcohol she believes was drugged, Tamra is certain about a few details.
"I know the guy that did it walked up with two drinks that were pink. He had sunglasses on and looked Middle Eastern. That's all I remember," she said. "He asked us if we would go to a club with him and we said no over and over again."
Article continues below advertisement
After refusing his advances and invitation, all the ladies returned to their hotel around 11 p.m. when things started getting blurry-literally.
"At first our friends thought the wine was really getting to our head. So they got us in a cab took us to the hotel. We walked into the hotel bathroom and got very sick and passed out on the floor of the hotel lobby bathroom," she remembered. "It had been about 30 minutes from the time we drank the drink until we were out.
A shaken Tamra blacked out until the next morning, and by then she said there was no time to go to the hospital. Her schedule forced her to "keep moving."
"I woke up in my room at 5 a.m. not knowing how I got there. I was extremely dizzy and couldn't get out of bed. The room was spinning in a way I had never felt. It's like everything was in slow motion.
"Then about noon I had to get up to do press in NYC. It was the most difficult thing I have ever done. I was sick to my stomach and couldn't stand up very long without feeling like I was going to pass out."
Article continues below advertisement
And her boyfriend, Eddie Judge, was "terrified."
"He had been calling me all night with no answer. Peggy had answered one of his calls and told him things were not good and she thought we had been drugged."
Despite the adverse aftermath, Tamra said she's learned her lesson: "I know how stupid I am for taking a drink that was handed to me. It just blows my mind that people do this kind of stuff. I am mad at my self for drinking that drink. I knew better!"