EXCLUSIVE INTERVIEW: NYC Housewife Ramona Singer Opens Up About 'Roofie' Incident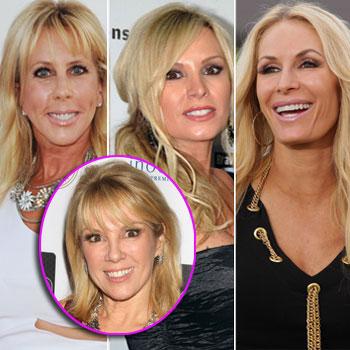 The Real Housewives got an unwelcome dose of reality the other night after an unidentified man at a bar allegedly "roofied" a couple of the leading ladies, enticing Ramona Singer to urge fans: "Never take a drink from a stranger", she tells RadarOnline.com exclusively.
News of the incident surfaced when Tamra Barney chatted with Andy Cohen on Bravo's Watch What Happens Live! last Sunday, claiming: "I got roofied," referring to the date rape drug Rohypnol.
Article continues below advertisement
The reality stars from west and east coasts, including Orange County's Vicki Gunvalson, Tamra, and newbie Peggy Tanous, met up with Ramona at a bar in New York City a few days ago.
"So many fans came over and said 'we love you guys,'" recalled Ramona.
And right before they called it a night, a middle-aged gentleman came over with drinks in hand.
"He sat next to Tamra and Peggy and said, 'I have a special drink for you two ladies.' Obviously he was watching them and decided to buy them drinks.
"Tamra drank only part of her drink, but Peggy drank all of it, poor thing.
"We all left as they finished their drinks and they got back to their hotel 20 minutes later and felt the effects," Ramona added.
Vicki was able to take care of the women in their affected state.
"Thankfully, Vicki was there because they almost had to go to the hospital.
"I think it's a lesson for everyone to learn -- Never take a drink from a stranger," Ramona said adamantly.