PHOTOS: Whose Luscious Lips Are Real Or Fake? Plastic Surgery Secrets Of The Real Housewives Exposed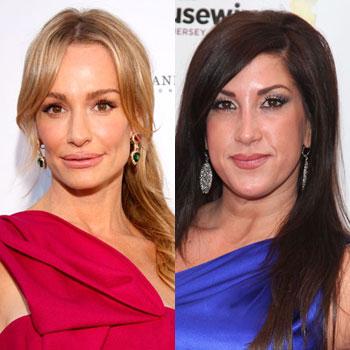 The Real Housewives are not alone in their search for flawless lips, but in their quest for perfection, these beautiful reality television stars often end up with trout pout!
Whose luscious lips are real or fake?
RadarOnline.com went in search of the answers and spoke to lip augmentation Dr. Robert Gordon -- a.k.a. "Dr. Lips" -- who rated five housewives and gave us the skinny on whether their kissables are real or fake.
Article continues below advertisement
"Taylor has a beautiful facial framework that any facial artist would love to work on.
"Unfortunately though, Taylor represents one of the classic mistakes most lip augmenters do, adding to much volume to her upper lip and hence is carries an artificial look."
His rating... "Dr. Lips" gives her lips 4 out of 10.
Taylor's Beverly Hills co-star Kyle Richards has an absolutely gorgeous lip style, he said.
Article continues below advertisement
"She has enhanced her lips to a classic lips style, with a slight angelic swoop to the upper lip," "Dr Lips" said.
"The classic lip style is just that. Following the rules of natural beginning lip form and her slight shaping of them to enhance their natural beauty.
"Dr. Lips" gives Kyle's lips 8 out of 10.
According to RadarOnline.com's surgeon experts, "All signs point to Alexis Bellino of The Real Housewives of Orange County to having lip enhancement and they present in what I call the Rubina style. One merely needs to look at her lips in younger years."
MORE ON:
Jacqueline Laurita
He added, "All that presented, Alexis's lip proportions are a nicely kept and stay within her natural beginning style. They are not overly stated but enough to express a sultry look."
"Dr. Lips" gives Alexis' lips 9 lips out of 10.
As far as lip augmentation is concerned, Jacqueline Laurita of The Real Housewives New Jersey is a difficult judgement call for Dr. Gordon.
"She is the only one in the group that has a Cupid Style of lip," he said.
Article continues below advertisement
"That is her upper lip volume is very centered and becomes less as they move to the corners of her mouth."
"I would venture to guess she has had very little if no filler at all. Why would you play with a near perfect set of Cupid Lips?"
Dr. Lips gives her lips 8 out of 10.
According to "Dr. Lips," there is no doubt that Kim Zolciak of Real Housewives Atlanta has a full set of lips and her facial framework has the potential to support them.
"The bad news is that the work done on Kim's lips violates the rules of natural lip proportions," he judged.
"Equal volume in upper and lower lips is the most "unaesthetic" form and is a sign of aged lips. Kim's lips lack the sculpted form to support this amount of filler, which results in the traditional "trout pout."
"We can only hope that her lips have been augmented with a temporary material like Hyaluronic Acid filler and she can start again with a fresh slate."
Dr. Lips gives her lips 4 out of 10.
Dr. Gordon's long-anticipated new book, Cupid's Bow: The Five Secrets to Sexy, Sultry Lips at Any Age is a woman's guide to kissing botched lip procedures goodbye for good.
"Cupid's Bow is written for women who are considering a cosmetic lip procedure and want to avoid the dreaded trout pout," the doc said.
It's available at Books-A-Million starting March 8, 2011.