EXCLUSIVE DOCUMENTS: Grease Star Jeff Conaway's Girlfriend: 'He Said He Was Going To Kill Me'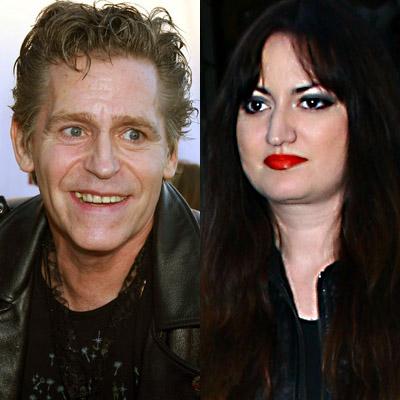 In dramatic new accusations, Vikki Lizzi -- the ex-fiancé of Grease star Jeff Conaway -- claims her former live-in lover punched her in the face while she was driving and threatened to kill her, and RadarOnline.com has the police report to prove it.
EXCLUSIVE DOCUMENTS: Read Vikki Lizzi's Police Report And Temporary Restraining Order
The alleged violent incident was all documented in a restraining order and police report she recently filed against her boyfriend of seven years.
Article continues below advertisement
"He punched me in the eye!" she wrote in court documents filed February 28 describing the alleged attack that took place last August: "While we were driving 65 on the freeway, Jeff pushed the gear in park trying to cause an accident and get us killed. He was turning the driving wheel weaving into other lanes."
Lizzi (whose legal name is Vikki Spinoza) reported the domestic battery claim to the LAPD and in her application for a temporary restraining order describes her eye injury as "black and purple."
EXCLUSIVE: Charlie Sheen: I'd Rather Move To El Salvador Than Face Ex In Court
She also alleges in June 2008 she went to visit Jeff in drug rehabilitation and he had a violent outburst which resulted in a chest contusion.
"He kicked me in the chest and sent me to the emergency room," Lizzi wrote, claiming too that it was recorded on video, according to the TRO.
EXCLUSIVE DOCUMENTS: Gloria Allred Obtains Temporary Restraining Order
Article continues below advertisement
The most recent domestic violence claim allegedly took place on February 23 where Lizzie claims Conaway threatened to kill her.
"I called 911 after he said he was going to kill me.
"He pulled out a knife and a hammer.he followed me to the bathroom where I locked myself in and he wouldn't leave.saying he would put me away if I left him."
Her reasons for filing a restraining order also extend to blackmail, she says.
"He blackmails me if I go to police. He will ruin my life.He calls police often telling them I steal his medications so he can get a new prescription to get more," she said.
The tumultuous ex-lovers are now battling it out in court, with Conaway also filing his own restraining order against Lizzi charging that she injected him with painkillers and planted cocaine in the Los Angeles house they shared before attempting to orchestrate a police bust.
Article continues below advertisement
Lizzi adamantly denied his allegations exclusively to RadarOnline.com at the court hearing this week: "I can't help laughing because it's funny to me and that's what this thing is all about, is the fact that he's on so many pain meds that it's affecting his mental state, all these things that he's making up," Lizzi revealed.
And she likens his addiction to that of a megastar who died suddenly almost two years ago.
"He doesn't admit he has any kind of problem with the pain meds but in fact it's the same situation that Michael Jackson was in and he's gonna to be dead very soon if he doesn't get help."
Lizzi requests that she would like her ex to "stop reporting lies" to the police and "slandering" her name.
They're expected to return to court on Monday, April 11.
RELATED STORIES: