Exclusive
EXCLUSIVE: Charlie Sheen's 'Tsunami Of Interviews' Continues; Next Stop -- David Letterman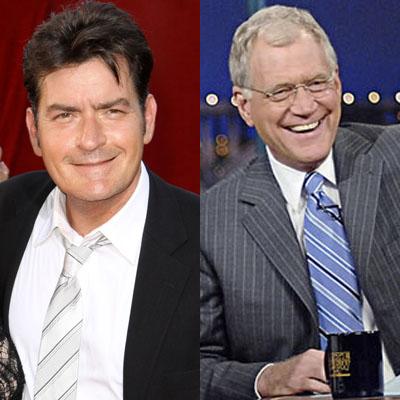 Charlie Sheen's make-your-head-spin media tour takes another pit stop on Wednesday: the outspoken Two and a Half Men star stops by The Late Show With David Letterman, RadarOnline.com has learned.
The interview will be filmed at his Los Angeles mansion during the early hours of the afternoon, we're told.
"Paul Shaffer and the CBS Orchestra are even considering wearing t-shirts that read, 'Winning'," a production source told RadarOnline.com, a nod to the catch-cry he has embedded into pop culture since his dramas began.
Article continues below advertisement
Since doing his first sit-down interview with RadarOnline.com, the star has appeared on ABC News' Good Morning America and 20/20, NBC's Today Show and CNN's Piers Morgan Tonight.
But he took to Twitter on Tuesday night to declare there was one show he wouldn't be doing: HLN's Nancy Grace.
Sheen wrote: "Just got invited to do the Nancy Grace Show... I'd rather go on a long road trip with Chuck Lorre in a '75 Pacer."