Wikileaks Founder Julian Assange Back In Court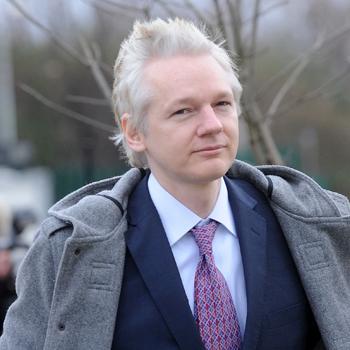 Julian Assange's attorneys argued he should not be extradited to Sweden because he could not get a fair trial under the circumstances there, during Monday's hearing for the WikiLeaks founder at London's Belmarsh Magistrates' Court, RadarOnline.com has learned.
Assange was front in center in the court, clad in a blue suit and red tie, for the hearing to determine whether he'd be extradited to Sweden, where two women have accused him of sexual misconduct.
Article continues below advertisement
VIDEO: Julian Assange Arrives At U.K. Court - AP
Assange lawyer Geoffrey Robertson argued that his client's extradition to Sweden would be "a flagrant denial of justice... blatantly unfair, not only by British standards but by European standards and indeed by international standards.
"You cannot have a fair trial where the press and the public are excluded from the court," Robertson said of a trial that would take place behind closed doors (as most rape cases are handled in Sweden).
Robertson said Assange is innocent of any sexual wrongdoings under English law, as he said relationships have "moments of frustration, irritation and argument.
"This doesn't mean, in this country, that the police are entitled to sniff under the bedclothes," Robertson said.
Assange's attorneys added that "there is a real risk that, if extradited to Sweden, the U.S. will seek his extradition and/or illegal rendition to the USA, where there will be a real risk of him being detained at Guantanamo Bay or elsewhere."
Article continues below advertisement
Assange has claimed he's a political target for officials upset with his website's stream of revelations. Since his release from custody on bail, Assange's been staying in a 10-bedroom mansion in eastern England that's owned by WikiLeaks supporter Vaughan Smith. He must wear an electronic monitoring bracelet, check in with authorities on a daily basis and keep court-designated curfews under the terms of his release.