VIDEO: Dr. Conrad Murray Chatting On Phone During Michael Jackson's Last Moments, Waitress Claims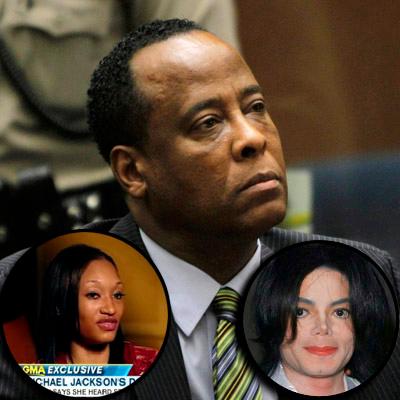 An attractive Houston waitress named Sade Anding claims that Dr. Conrad Murray could have been distracted from taking care of Michael Jackson on the day the Thriller singer died -- because he was on the phone talking to her .
As RadarOnline.com previously reported, Murray, 57, was the King of Pop's live-in doctor when he died at the age of 50 on June 25, 2009, with his official cause of death deemed acute intoxication of a powerful anesthetic complicated by other sedatives.
Article continues below advertisement
Anding, 24, told Good Morning America Thursday she met Murray while she was waiting on him at a restaurant in Houston. She said Murray spoiled her with lavish gifts and about $2,000 in cash.
Anding, who didn't know Murray was married until ABC News informed her (she said Murray told her she was divorced) said they went to dinner on two occasions.
Anding said Murray began the conversation on June 25, 2009 sounding "like something was wrong.
Watch the video on RadarOnline.com
Anding said Murray hemmed and hawed, unable to speak the words he'd been trying to tell her. She said at some point in the strained discussion, Murray dropped off the call, but she could hear coughing and the "mumbling of voices" in the background.
She said she called him back and sent text messages to continue their chat, but Murray didn't respond.
"And then I never heard from him," Anding said. "And then that's when … I felt like something was wrong."
Article continues below advertisement
Anding said later that week, the Los Angeles Police Department called her with questions about Murray.
"I knew that they were going to reach out to me after that phone call," Anding said. "Like, I knew as soon as I heard what happened, it clicked to me like, 'Oh God, I'm in it!'"
Anding said that Murray was rattled when she told him the police had contacted her, and said little about Jackson's death in further conversations with her out of concern their "phones may be tapped."
Anding said Jackson's death made her sad, and she even felt guilty about talking on the phone to Murray at the very moments the King Of Pop might have been dying.
"I felt like it was my fault," she said, crying. "But I really felt like, if he wouldn't have called me, then maybe all that stuff that happened wouldn't have happened."
Asked if she thinks Murray is guilty of manslaughter, Anding said, "Not at all."
Article continues below advertisement