Michael Lohan Lending His Expertise To Rehab Center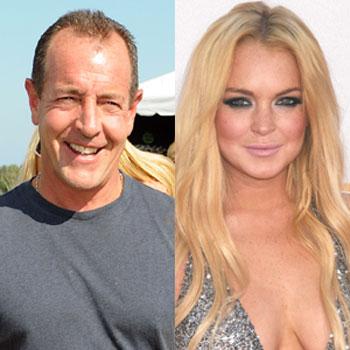 As Lindsay Lohan's next appointment with a judge nears, her father Michael took some time away from his own family's struggles to counsel other troubled families in Florida and RadarOnline.com has all the details.
Michael, 50, flew to south Florida on Monday to meet with children and their families in the in-patient drug rehab center Inspirations for Youth and Families. He will be filming a commercial for the center as well as performing hands-on work with those struggling with addiction.
Article continues below advertisement
"I'm going to be doing interventions," Lohan told RadarOnline.com, going on to share that his daughter totally approves of his mission. "Lindsay is 100 per cent behind what I'm doing and I look forward to this entire journey not only with my family but with the Inspiration youth program as well."
In an interview with Josie Lambiet's Page2Live Michael blamed himself for Lindsay's troubles, saying that her drug and alcohol addictions stem from family strife he created when divorcing her mother, Dina.
Lindsay's struggle with addiction has been well documented - she has been to rehab a total of five times, most recently spending a court ordered 90 days in the Betty Ford Center.
"Lindsay never recovered from me divorcing her mother," Michael said. "It destroyed my daughter. Traumatic events like a death or a divorce create cracks in children's hearts, and they look for booze or drugs to fill those cracks.
Article continues below advertisement
Karen Walsh, the co-founder of Inspirations, explained why they invited Michael to speak to their patients and families. "As a parent, he knows the heartaches of struggling with a troubled teenager. He is a caring dad who's more devoted to his children than the media claim."
As RadarOnline.com previously reported Michael wrote an open letter to Billy Ray Cyrus last week, who has also blamed himself, and the entertainment business for his daughter Miley's recent problems.
PHOTO: Lindsay Rocks A White Bikini
In an interview which runs in the March issue of GQ Magazine Cyrus claimed that Miley's star-making gig on Hannah Montana -- and Satan -- have destroyed his family, and that he's desperate to get his famous offspring "sheltered from the storm."
Lohan echoed Cyrus' sentiments that his family's troubles began after Lindsay entered showbiz.
"We were happy before Lindsay became a star," Michael mused.
Article continues below advertisement
As for Lindsay's current court battle and potential jail time, Michael admitted that he has no control over the decision: "It's in God's hands now. Only He Knows."
But, despite believing he is powerless to influence the outcome, Lohan will still be providing his full support to his troubled daughter.
"I will be back in Los Angeles to be in court for Lindsay," Lohan told RadarOnline.com.
Meantime, Lindsay's mother Dina, arrived in Los Angeles Monday for a 10-day stay with her daughter, but no one has said if there's a family reunion on the cards.