EXCLUSIVE: Another Bad Day For Lindsay Lohan, ATM Won't Give Her Money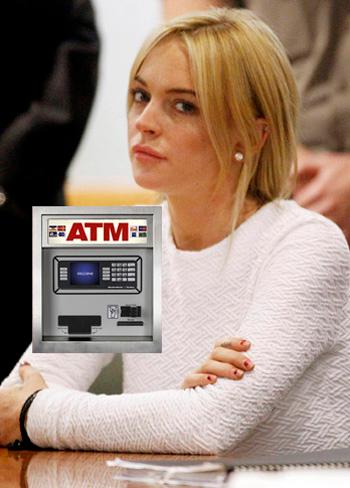 Another day, another dollar -- but not for Lindsay Lohan!
The Mean Girls actress was stiffed by an ATM machine in Beverly Hills on Thursday afternoon after three of her credit cards were denied, leaving the machine with an error message.
"Lindsay was at a pharmacy and tried to take money out of the ATM with three different cards," an eyewitness told RadarOnline.com exclusively.
"Finally she asked for help after the screen flashed to 'call for service' and she realized it was broken."
Article continues below advertisement
One eyewitness told RadarOnline.com the starlet was left cashless, despite calling out to the clerk to call for service and have it fixed.
Leaving the question: ATM malfunction, or insufficient funds?
According to the clerk at the pharmacy, the ATM was working perfectly fine all day, until Lindsay got her hands on it.
"The machine has been working fine all day," the clerk told RadarOnline.com.
Seems the 24-year-old starlet can't catch a break lately.
MORE ON:
Judge Keith Schwartz
Lohan has been the center of controversy after the owner of a Venice, California, jewelry store claimed she stole a $2,500 necklace and she was charged with felony grand theft.
She's slated to appear in front of Judge Keith Schwartz next Wednesday, February 23, for her next hearing in the matter, and must appear, as is the case with anyone in Los Angeles County who is charged with a felony.
The troubled actress completed a 90-day treatment at the Betty Ford Center after repeated failures to meet the terms of her probation in connection with her 2007 DUI conviction.