VIDEO: David Letterman's Sarcastic Apology: 'I Hope I Didn't Embarrass You Lindsay -- And Your Family'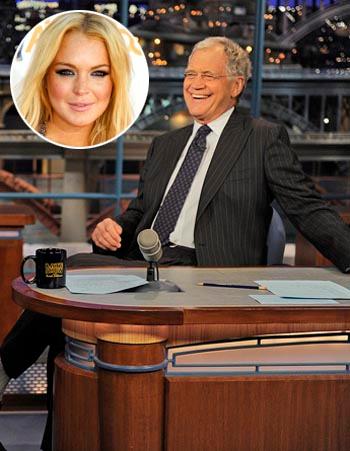 Another day, another controversy for Lindsay Lohan.
While the 24-year-old Mean Girls star was advertised earlier this week to deliver David Letterman's Top Ten List via a satellite feed on The Late Show on  Thursday, it turns out no one from her camp officially booked her, leaving Letterman admittedly "duped."
Lohan, who's appeared on Letterman's show five times, was the butt of a Top Ten List last just last week, as the subject was "The Top Ten reasons Lindsay Lohan's out of control."
Article continues below advertisement
Letterman said someone (reportedly Lindsay's father Michael) called up his show to tell them "Lindsay thought that joke was hilarious … She wants to be on your show."
After the appearance was announced, however, Lindsay took to Twitter and said she wasn't booked for the show, leaving Letterman and his team with egg on their face.
Tom Keaney, a spokesperson for Letterman's camp, said in a statement Wednesday, "We made a mistake.
"Someone purporting to be a friend of Lindsay's reached out to the show yesterday, allegedly on her behalf, and booked her to appear," he wrote. "Clearly, this person was not authorized to make commitments on her behalf."
On his broadcast Wednesday, Letterman gave Lohan a tongue-in-cheek apology, saying, "It turns out we were duped, and I have no one to blame but myself, and boy is my face is red.
"I hope I didn't embarrass you Lindsay and your family."