Exclusive
EXCLUSIVE INTERVIEW: LiLo's Little Brother Says 'Belittling Lindsay Is Terribly Abusive'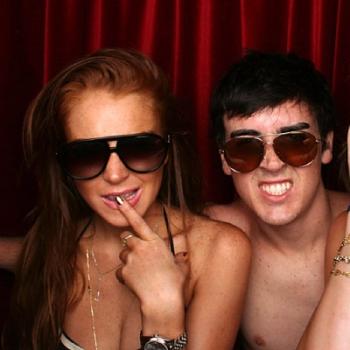 Lindsay Lohan's younger brother has leapt to the defense of his troubled sister, telling RadarOnline.com: "Belittling Lindsay, who is actively trying to recover, is terribly abusive."
Michael Lohan Jr., 23, spoke out exclusively to RadarOnline.com in the wake of his starlet sister being charged with felony grand theft after allegedly stealing a $2,500 gold and semi-precious stone necklace from a Venice, California, store.
Article continues below advertisement
He added: "Furthermore, choosing to pick on those supporting Lindsay is equally disrespectful and shameful."
The Mean Girls star, 24, entered a plea of not guilty at the Airport Courthouse in Los Angeles on Wednesday, before receiving an ultimatum from Superior Court Judge Keith L. Schwartz, who warned the actress: "Please don't push your luck."
Schwartz continued Lohan's felony grand theft hearing to February 23 and set bail at $40,000 -- $20,000 for the felony charge and $20,000 for violation of her probation stemming from a 2007 DUI case.
Michael Jr., who has until now shunned the limelight, graduated from Ithaca college last year at the top of his class, and friends suggest he is proving to be a positive influence on Lindsay, who left the Betty Ford Center on January 3 after 90 days following her DUI conviction.
In September, Michael Jr. flew to Los Angeles in an attempt to help keep Lindsay clean and sober and to safeguard her from her enablers.
Article continues below advertisement
Since RadarOnline.com first broke the news of the alleged theft, Lohan has faced a barrage from her critics, including most recently in the Twitter-verse, where her courtroom couture -- a tight, white mini-dress -- was the center of much debate.
Some suggested Lohan seemed to be channeling Sharon Stone in 1992's erotic thriller Basic Instinct.
Said Michael Jr.: "It's completely unnecessary to kick a person when they're down, and it says a lot about a person/party whom is willing to do just that.