PHOTOS: Lindsay Lohan's Rehab Retreat: Coffee & Cigarettes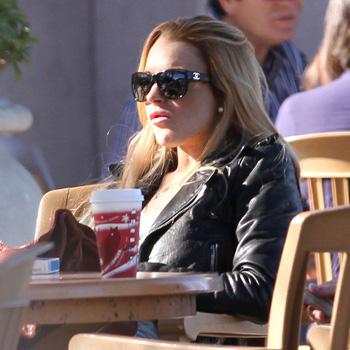 Old habits die hard.
Lindsay Lohan might have kicked her drug and booze habit, but she can't break free from two of her other vices: coffee and cigarettes.
RadarOnline.com spotted the reformed Hollywood wild child on a break from the sober living rehab house at the Betty Ford Centre in Rancho Mirage, California, where she has been living since late September.
The 24-year-old Mean Girls star dropped into a local Starbucks on Friday in the company of a small group of friends.
Article continues below advertisement
While Lohan has welcomed one-time estranged dad Michael back into the fold, he hasn't been able to effect change on his daughter's nicotine needs.
Last month, the Lohan patriarch sent his daughter an electric smokeless cigarette as part of a care package, in the hope it would trigger a decision to quit smoking for good.
Probation Report: Lindsay Lohan Feels Powerless About Being An Addict, Says She's Broke