Lindsay Lohan Hits The Gym During Break From Rehab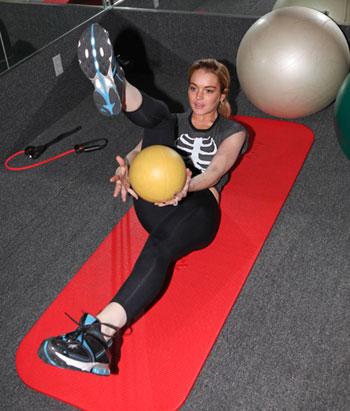 Lindsay Lohan was freed from the Betty Ford Center for Thanksgiving and she spent the holiday with her dad, Michael, but not before putting in some time at the gym -- as these RadarOnline.com photos reveal.
The Mean Girls actress was spotted working out at a private gym in Los Angeles and looked to be enjoying herself.
Lindsay told the photographer that she has been working out five days a week, beginning at 7am.
Article continues below advertisement
Lindsay also used the brief respite from Betty Ford to return to her Twitter page.
She tweeted around Midnight, "Every passing minute is another chance to turn it all around. Sofia~Vanilla Sky. LOVE this quote!"
Earlier, Lindsay had spent Thanksgiving with father Michael who cooked the turkey for her and a group of friends.
RELATED STORIES:
Probation Report: Lindsay Lohan Feels Powerless About Being An Addict, Says She's Broke