Billy Ray Cyrus: 'That Damn Hannah Montana Destroyed My Family'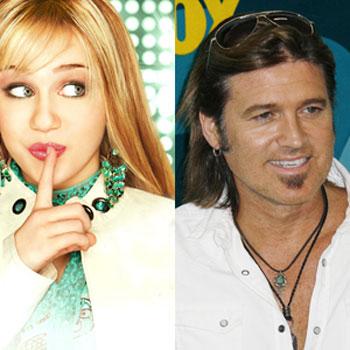 Billy Ray Cyrus said appearing on The Disney Channel's Hannah Montana -- the tween-oriented show which revived his career and made his daughter Miley a superstar -- might have been one of the worst things that ever happened to him.
"I'll tell you right now -- that damn show destroyed my family," the one-hit wonder-turned-famous-dad told GQ in its' March issue. "For my family to be here and just everybody okay, safe and sound and happy and normal, would have been fantastic.
Article continues below advertisement
"I'd erase it all in a second if I could."
The Achy Breaky Heart singer -- who's divorcing Miley's mom, and his wife of 18 years, Tish -- said in the strong interview that there's "no doubt" Satan is attacking his family -- including his famous daughter.
"I'm scared for her," he said. "She's got a lot of people around her that's putting her in a great deal of danger. I want to get her sheltered from the storm."
Billy said when Miley made headlines a few months back, after a video of her smoking saliva from a water pipe sprouted online, Miley's reps "told me it was none of my business.
"I should have been a better parent," he said. "I should have said, 'enough is enough.' But I didn't."
Those scandals led him to decide to skip attend Miley's 18th birthday party, where Miley ultimately was photographed making out with a young man.
Article continues below advertisement
"You know why I didn't go? Because they were having it in a bar. It was wrong. It was for 21 years old and up. Once again all them people, they all wanted me to fly out so that then when all the bad press came they could say, 'Daddy endorsed this stuff. ...' I started realizing I'm being used. If I would have went out there I would have been right in the middle of all this stuff that's going on right now with the bong. They'd be hanging it on my ass. I had the common sense ... I said, 'This whole thing's falling apart up there and they just want to blame all of this stuff on you again.' I'm staying out of it."