Exclusive
EXCLUSIVE: Oksana's Lawyers Compiling Mel Gibson 'Dirt File' To Prove He's 'Crazy' & Strip Him Of Child Custody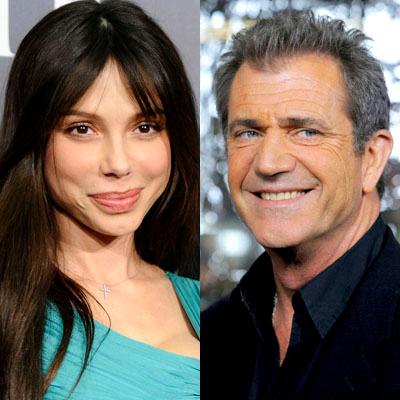 Oksana Grigorieva's legal team is compiling a "dirt file" to prove Mel Gibson is "crazy" in a desperate court bid to strip him of child custody, RadarOnline.com has exclusively learned.
The Russian musician's lawyers have also engaged audio specialists to authenticate it's Gibson's voice on the secretly recorded tapes, which were obtained by RadarOnline.com in a series of stunning world exclusives.
In the rants, Gibson, 55, threatened to blow up Grigorieva, 40, but not until she performed oral sex on him first and bury her in the "f**king rose garden". The Oscar-winning director/actor also admitted striking Grigorieva, while she held Lucia, because she "f**king deserved it" and is heard making a series of racial epithets and calling his ex-girlfriend a "whore".
Article continues below advertisement
"There has never been any doubt about the authenticity of the tapes, however Oksana's lawyers believe that if an independent and world renowned expert verifies it is indeed Gibson on the tape, which it is, the judge in their child custody case will be compelled to take action and strip him of his rights," a source with knowledge of the situation told RadarOnline.com.
Despite Grigorieva's protests to date that the Lethal Weapon star is unfit to care for his child, Los Angeles Superior Court Judge Scott M. Gordon has upheld an agreement she signed, in May, last year.
That deal, which Grigorieva later turned her back on, ensured the pair would share 50-50 custody of Lucia and granted Gibson overnight visits.
Said one source: "The dossier will be presented to the court by way of explanation that Gibson clearly should not be granted the custody he currently enjoys with Lucia.
"It will be argued that the court is not acting in the best interests of Lucia."
The "dirt file" will also include other times Gibson has allegedly flown of the handle, RadarOnline.com has been told.
Article continues below advertisement
These include claims that Grigorieva once witnessed Gibson hitting his youngest son Tommy, once admitted hurling a television at his former wife and picked up a chair and slammed it through a glass door during a fight in December, 2009, while his ex-lover and their baby cowered nearby.
Said the insider: "This file will also include new, never-before-released evidence that Oksana and her team has assembled."
Grigorieva alleged she was subjected to verbal and physical abuse at the hands of the star, culminating in a nuclear blow up on January 6, last year, when he punched her in the head, knocking out two veneers on her upper front teeth.
In a sworn declaration in the couple's family law case, Gibson confessed to slapping Grigorieva during an argument, but denied hitting her.
Gibson countered Grigorieva with the charge that she tried to extort millions of dollars from him in return for keeping the telephone recordings secret.
Article continues below advertisement