Exclusive
EXCLUSIVE: Out Of Control Mel Gibson Shattered Glass Door With Chair While Screaming At Oksana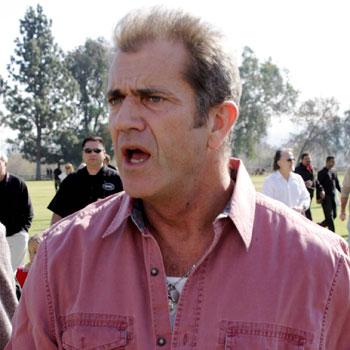 An out-of-control Mel Gibson went into a tirade, picked up a chair and slammed it through a glass door while Oksana Griogorieva and their baby cowered nearby, RadarOnline.com is reporting exclusively.
It's yet another charge of violent behavior against Mel, who is under investigation on domestic violence charges by the Los Angeles County Sheriff's Department.
Article continues below advertisement
Oksana has two witnesses to the immediate aftermath of the event – her mother, and one of Mel's sons. Both were in the house when the incident happened in December, 2009 and came into the room immediately after, RadarOnline.com has learned exclusively.
This incident is part of the civil and criminal cases involving that are being investigated.
"Oksana has told authorities that she and Lucia were in the master bedroom of Mel's Malibu mansion when he went out of control," a source familiar with the situation told RadarOnline.com exclusively.
"She said he was literally foaming at the mouth."
Oksana was frightened and on the bed holding Lucia, who was one-month-old at the time. She told authorities she tried to cover the baby's head because she was scared as Mel was losing it.
"Mel grabbed a chair and slammed it into a glass door, which shattered, according to Oksana," the source said.
The presence of witnesses to the immediate aftermath could help Oksana's case considerably with authorities, as it adds proof to what she is claiming.
Article continues below advertisement
Oksana's mother was in the house and came running into the room. She saw Mel still screaming as well as the shattered glass.
EXCLUSIVE PHOTO of Oksana After She Says Mel Punched Her
She quickly left the room and returned with one of Mel's son. Oksana told authorities that the son tried to talk to Mel as she fled the room with the baby.
"But Mel followed Oksana," the source said. "Oksana said she ran into another bedroom but Mel came in, still screaming and chest bumped her while she held the baby."
Oksana told authorities that Mel kicked her out of the house and she began to pack but about a half hour later Mel told her she wasn't going anywhere.
Mel demanded an apology. Oksana says her mother told her not to apologized because she had done nothing wrong. But Oksana, trying to calm the situation, apologized anyway.
She says Mel apologized to her days later.
Mel's rage is captured on six audio tapes obtained and released exclusively by RadarOnline.com. On the tapes he threatens Oksana, screams, loses control and lapses into profanity-laced tirades.
Article continues below advertisement
Oksana's description of the December event – and the two witnesses to the aftermath – are consistent with how she has described Mel's behavior all along.
The Russian-born musician says Mel punched her in the head twice on January 6. Her front teeth were severely damaged, with one veneer knocked off and another cracked. She also suffered a concussion, as RadarOnline.com reported exclusively.
Gibson has denied hitting Oksana and his lawyers claim she tried to extort him. The Sheriff's department confirmed it is looking into that allegation after Mel's lawyer raised it.