Exclusive
EXCLUSIVE INTERVIEW: Ex-Boyfriend: Oprah & Gayle 'Were Made For Each Other'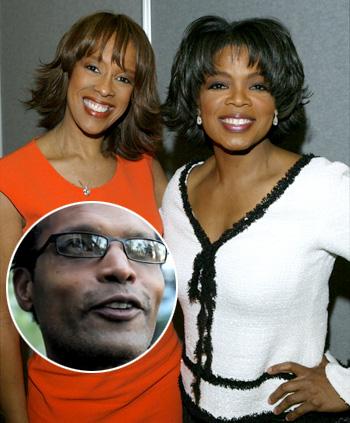 "If there was no man in the world for Oprah, I think maybe Gayle would be enough for her -- perfect for her."
EXCLUSIVE PHOTO: Flashback! Stedman Appears In Ad With Oprah's Ex Lover
That's the assessment of Haitian filmmaker Reginald Chevalier who claims he had a four-month live-in relationship with the television talk show host in the mid-eighties.
"They were made for each other," the 50-year-old Los Angeles-based producer, who lived with Oprah in her Chicago apartment after meeting on her chat show, recalled to RadarOnline.com in an exclusive interview.
Article continues below advertisement
"They were always laughing, telling jokes and every time they saw each other, they were happy."
While best pals Oprah and Gayle King have long dismissed persistent gay talk, their legendary friendship has often been likened to that of a lesbian romance, and in December the powerful media mogul proudly boasted she did not "know a better person."
In the interview with Barbara Walters, Oprah, 56, became overwhelmed by emotion and also declared: "I am not a lesbian... I'm not even kind of a lesbian."
Like many, Reginald said he had heard the rumors, but never believed them.
Reginald said he thought: "They're just good friends and close, a little more than what two sisters would be."
The former model, who even featured in magazine advertisements alongside Oprah's longtime lover Stedman Graham, was one of the precious few to ever get a close-up look at the media titan's private life.
"I don't know if it was ever a huge priority for her to have a man in her life, but she didn't want to be alone, you know what I mean... she needs someone close to her all the time," Reginald said.
Article continues below advertisement
He described Oprah and Gayle's relationship as "normal" even though they talked up to three times each day, he said.
"It's almost like they were teenagers," Reginald said, and "they played with each other, they talked about everything, they'd tell each other their secrets.
"That's because when Oprah wants something or likes someone she shows loyalty to that person."
As Reginald previously told RadarOnline.com, his relationship with the chat show host ended abruptly when she threw him out while he was away for work.
Branding Oprah "as cold as ice", he said she dumped him by changing the locks.
"She acted like I was a stranger," Reginald recalled, remembering a chance encounter not soon after the split, which left him to think, "someone said something about me that wasn't true."
"I don't know if Gayle was the one who told Oprah to leave me... It could have happened," Reginald told RadarOnline.com.
"Maybe she said, 'He's a better man for you.'
Article continues below advertisement