EXCLUSIVE INTERVIEW: Stedman Stole Oprah From Me, Secret Lover Tells Radar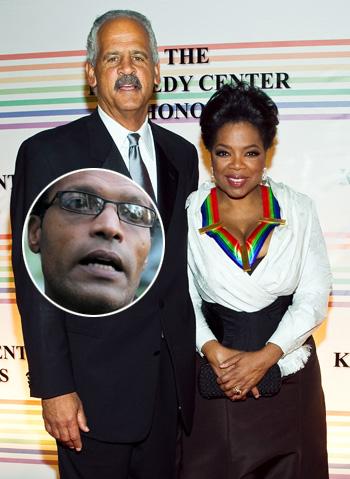 Stedman Graham wooed Oprah Winfrey away from her heartbroken former lover, Reginald Chevalier, who is speaking out exclusively to RadarOnline.com in his first interview since his fling with the talk show queen was revealed.
"When I was dating Oprah, I know for a fact that Stedman was courting her," Reginald, 51, told RadarOnline.com.
The Haitian filmmaker, who now lives in Los Angeles, began his short-lived relationship with the media mogul when he appeared on her show in 1985, featuring him in a look-alike segment.
Article continues below advertisement
On the same day, the two began what would be a four-month-long affair. He was 25, and she was 32.
In a twist of fate, Reginald revealed to RadarOnline.com that at the time of his romance with Oprah, he and Stedman were featured in magazine advertisements for a car manufacturer -- together!
Not surprisingly, their working relationship soured when a determined Stedman made his intentions clear -- he wanted another man's woman.
Said Reginald: "I remember Stedman used to call, and I would answer the phone and she would tell me, 'I don't want to talk to him... I'm not here'.
"I was p*ssed and I told him she wasn't there. But I wasn't going to be malicious about it."
Reginald said he lived with Oprah, now 57, in her Chicago apartment and even attended the local premiere of her film The Color Purple alongside the fledgling star.
Article continues below advertisement
But not soon after their love affair began, Reginald noticed how Oprah was starting to become smitten with another man.
Speaking exclusively to RadarOnline.com in his first interview since Oprah's biographer Kitty Kelly exposed the pair's tryst, Reginald said he had traced back the demise of the romance to a New Year's Eve party that Oprah hosted.
"Stedman came with another girl and she was somehow trying to talk to me and every time I turned somewhere, she was there," he recalled.
"I figured out that Stedman brought the girl in order to distract me from Oprah.
"Every time Oprah would come to talk to me, the other girl was still standing there, giving the appearance that I was tying to pick her up and as if I were the one initiating everything."
Stedman's plan -- "he knew what the target was" -- worked, Reginald added.
Eventually, Oprah locked Reginald out of her home and her life, without even a phone call or in-person goodbye.
Article continues below advertisement
She left a short and simple note, which he said read: "It's not going to work out between us."
Reginald joked, with a laugh: "Stedman won the battle!"
"I think he tried everything he had to get Oprah," Reginald recalled, suggesting "I think Oprah did get upset because every time (she came over to talk to me) the other girl would appear."
With a busy modeling career that kept him traveling interstate, Reginald admitted he wasn't in a place to settle down.
"I wasn't really into getting serious," he said.
However, Oprah did ask Reginald his thoughts on marriage, leaving him convinced that she planned to walk down the aisle at some point.
"If I would have married Oprah, we would have been together still," he said, "because she's the kind of woman when she has something she won't
let it go... she's loyal."
Twenty six years after Oprah and Reginald had the marriage discussion, the television star is yet to wed Graham.
Article continues below advertisement
Although Reginald has fond memories of their time together, including romantic evenings at home, candlelit baths and dinners with Michael Jordan and Danny Glover, he said he was shocked by the way she ended things.
When the pair crossed paths a year after their split, again on Oprah's set, she gave him the cold shoulder.
"She acted like I was a stranger," he told RadarOnline.com, leaving him to think, "someone said something about me that wasn't true."