Exclusive
EXCLUSIVE PHOTO: Flashback! Stedman Appears In Ad With Oprah's Ex Lover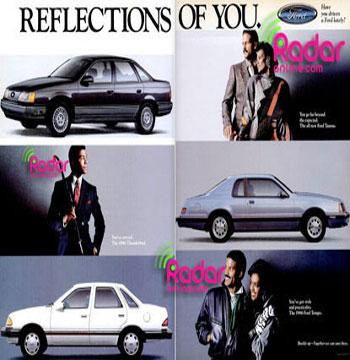 Oprah Winfrey's ex-lover and current beau appeared in a Ford automobile ad together, and RadarOnline.com has exclusively uncovered it.
Stedman Graham and Reginald Chevalier graced the pages of Ebony magazine together in a three-page spread during the 1986 Spring issue.
In the ad, Stedman is seen standing behind a woman with a brown sports jacket on, while Reginald is in the same position but wearing a leather bomber jacket.
Article continues below advertisement
Oprah and Stedman have been in a relationship for nearly 26 years, but scorned ex-lover Reginald told RadarOnline.com in an exclusive interview that Stedman stole Oprah from him.
"When I was dating Oprah, I know for a fact that Stedman was courting her," Reginald, 51, said.
"I remember Stedman used to call, and I would answer the phone and she would tell me, 'I don't want to talk to him... I'm not here.'"
The bizarre twist is that Stedman and Reginald worked together doing the Ford ad, but that friendship quickly soured when Stedman made it clear he was after Reginald's woman - and won her.
Reginald and Oprah only dated for a short four months before their relationship ended, but he still wonders what life with the queen of daytime talk shows would be like.
"If I would have married Oprah, we would have been together still," he said, "because she's the kind of woman when she has something she won't let it go... she's loyal."