VIDEO: Oprah Sets The Record Straight On BF Gayle -- 'I Don't Know A Better Person'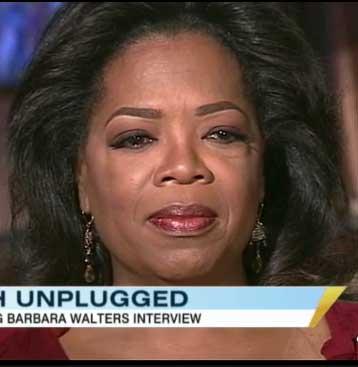 Oprah Winfrey became emotional -- and even cried -- while talking to Barbara Walters about her long-time best friend Gayle King, all the while denying rumors the two have been in a gay relationship for years, saying she's "not lesbian ... not even kinda lesbian. "
Watch the video on RadarOnline.com
The clip, which aired on ABC's Good Morning America Wednesday, was part of an hour-long interview the network plans to run with the two broadcasting icons in a primetime special on Thursday.
Article continues below advertisement
CONTROVERSY: Oprah An Unappreciated Prophet, Says Stedman Graham
Asked by Walters about her relationship with King, Winfrey was careful, yet emotional, with her words; after an awkwardly long pause, Winfrey said, "She is .... the mother I never had. She is the sister everyone would want. She is the friend that everyone deserves.
"I don't know a better person," Winfrey said, breaking into tears. "I don't know a better person."
Oprah and Other Celebs Attend The Kennedy Honors
Winfrey told Walters she was so emotional her answer "because I'm thinking about how much I've never told her that."
EXCLUSIVE: GLAAD Lashes Out Against Scott Baio's Wife
And as for those lesbian rumors that won't seem to go away?
"I have said, 'We are not gay' enough times," Winfrey said. "I'm not lesbian, I'm not even kinda lesbian."
She said the rumors irritate her "because somebody must think I'm lying, number one; number two is, why would I deny it? That is not the way I run my life."