EXCLUSIVE: Furious Spencer Pratt Calls Bravo Exec Andy Cohen 'Jackhole' Over Heidi 'Trash' Talk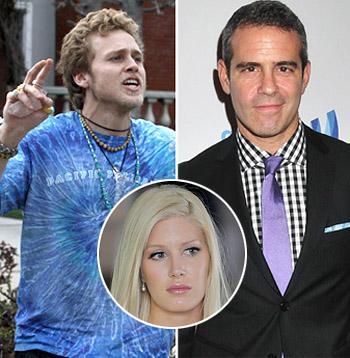 Spencer Pratt is furious with Bravo network executive Andy Cohen for his verbal tirade Thursday on his wife Heidi Montag, and he exclusively told RadarOnline.com, "I want a public apology!"
Cohen referred to Heidi as "trash" in a verbal attack after Montag Tweeted "Watch out Real Housewives of Beverly Hills. Here comes Heidi."
While Heidi may want to join the cast, Cohen didn't take kindly to the suggestion, and unleashed an aggressive assault on the 24-year-old former reality TV star.
Article continues below advertisement
"Professionally, I'm not supposed to discuss any negotiations so I have to parse my words here. That trash is delusional and I would sooner stab ... knives into my own eyes than see her on this network." He then
called her the "Jackhole" of the week."
Spencer was stunned by the hurtful comments about his wife, and he told RadarOnline.com, "Andy is clearly the Jackhole."
"You think you're special because you have your little talk show that's hurting in ratings doesn't give you special authority to bash a young girl."
"Maybe you have issues with women. From how I see you treat the women on all the series during your reunion shows, it's clear you you don't respect your talented housewives, always mocking them."
"Most viewers of Bravo are women, and no woman wants to hear a man call another woman trash."
"If he had such a problem with my wife, why didn't he say something to our faces when we met his arrogant self in NYC.