VIDEO: Surprise, Surprise, Surprise -- 'Texting Lady' Has Criminal Record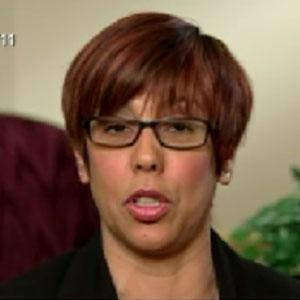 Cathy Cruz Marrero, the woman considering filing a lawsuit after video of her falling into the fountain of the Pennsylvania mall she works at went viral, has a criminal record for her past retail scams.
As RadarOnline.com previously reported, Cruz Marrero -- a 49-year-old who works in the Berkshire mall in Wyomissing, Pennsylvania -- claimed she was texting a church friend who wanted to know what her and her husband's birthdays were, when she lost her focus and careened into the fountain, emerging from it saturated. She said no mall officials came to her aid for 20 minutes, and she was upset the video had been subsequently posted online.
Article continues below advertisement
But as it turns out, Cruz Marrero's checkered past has cast a doubt over the validity of her claims: She was charged with identify theft in 2009 after authorities claim she used a co-worker's credit cards without permission to the tune of $5000, in addition to four convictions for retail theft and a hit-and-run on her record.
Watch the video on RadarOnline.com
When asked by Good Morning America Friday about her checkered past, Cruz Marrero -- who shouted from the rooftops of her humiliation and misfortune just a day earlier -- let her lawyer do the talking for her.
"There's absolutely no proof this was staged... that is nonsense," her attorney James Polyak said, adding she's not planning on suing the mall, but just wants an apology.