VIDEO: Texting Lady Who Fell Into Fountain 'Dumbfounded & Embarrassed' After Video Goes Viral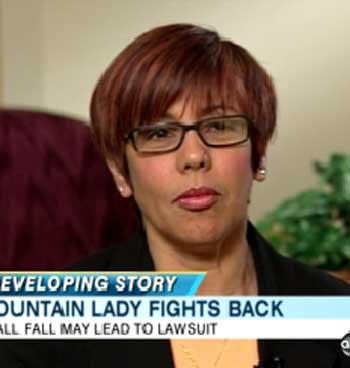 The woman at the center of a new viral video -- after she fell into the fountain of a Pennsylvania mall while sending a text message -- told Good Morning America Thursday she's looking into her legal options in the wake of the humiliating incident.
Cathy Cruz Marrero, a 49-year-old who works in the Berkshire mall in Wyomissing, PA. said she was texting a church friend who wanted to know what her and her husband's birthdays were, when she lost her focus and careened into the fountain, emerging from it saturated.
Article continues below advertisement
"I don't know what got into my head," Cruz Marrero said, adding she "was more dumbfounded, totally embarrassed thinking, 'I hope nobody saw me, so I'll just walk away.'"
Cruz Marrero said mall security didn't respond until 20 minutes after the incident, and she contacted the security department the next day to complain about their inaction.
Cruz Marrero said her nephew called her two days after the fall to tell her the video was posted online.
"I admit it was funny, but nobody took my feelings into consideration," she said.
Her attorney, James Polyak, said they intend to hold all responsible parties accountable, and want the identity of whoever made the clip public. He said while it's unclear, he suspects a security official allowed the footage to be taped onto a cell phone, which was subsequently uploaded to YouTube.
Cruz Marrero ended the segment with a cautionary message.