AMAZING VIDEO: Cruisin' For A Bruisin' - Nightmare On The High Seas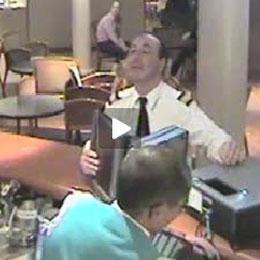 This never happened on The Love Boat.
Watch the video on RadarOnline.com
Newly released video shows what happened when a cruise ship hit rough seas during a bad storm off of New Zealand two years ago.
The Pacific Sun Cruise liner, carrying 1732 passengers and 671 crew members, was caught in the storm on July 30, 2008.
VIDEO: Jackass Stunt - 'Flying Donkey' Sparks Outrage
The ship encountered seven-metre swells and 50 knot winds.
Article continues below advertisement
A camera inside the ship shows passengers being tossed around like ragdolls, and furniture wildly sliding back-and-forth.
42 people on the ship were injured; many suffered broken bones.
Passengers who were aboard the ship were offered a 25 per cent reduction in the cost of a future cruise. ( Wonder how many people took them up on it?)