Exclusive
EXCLUSIVE: Mel Gibson's Lawyers To Depose Oksana's Ex Bodguard This Week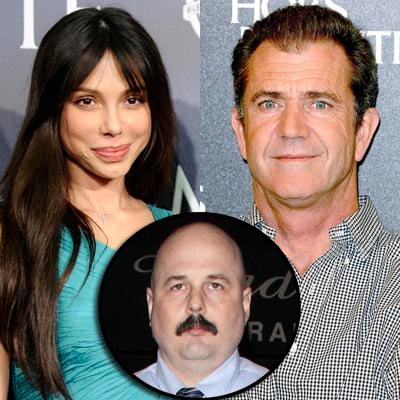 This week, Mel Gibson's legal team will depose the rogue bodyguard who claimed he and Oksana Grigorieva were intimate, and the actor's advisers are banking on him becoming a crucial witness in a bid to clear him criminally, RadarOnline.com has exclusively learned.
The interrogation of Kristian Otto Herzog has been set down for Friday, February 4.
The Lethal Weapon star's lawyers have subpoenaed documents and photos that Herzog has previously claimed detailed his relationship with the Russian musician, 40, in anticipation of the deposition.
Article continues below advertisement
"Gibson's camp believe Kristian will admit Oksana is grossly exaggerating her version of events in relation to the domestic violence allegations," a source with intimate knowledge of the case tells RadarOnline.com.
Grigorieva, 40, has claimed the Oscar winning director/actor punched her in the head on January 6, 2010, at his multi-million dollar mansion in Malibu, knocking out two veneers on her upper front teeth while she held their infant daughter, Lucia.
But a source close to Oksana tells RadarOnline.com her legal team is not concerned about what Kristian will suggest in his deposition, believing it is more of a distraction than anything.
"He is not a credible witness," one source said.
NEW PHOTOS: Mel Gibson In Costa Rica As Prosecutors Decide His Fate
"Here you have a convicted criminal who has gone from ingratiating himself into Oksana's life with the promise of free bodyguard protection, declaring his support for her, to then supposedly switching camps and supporting Mel, all this coincidentally around the same time that his romantic advances to her were spurned."
Article continues below advertisement
The close pal said Herzog will easily be disproved if his last will and testament -- first revealed by RadarOnline.com -- is entered into evidence.
"Any judge or jury that takes one look at the document will see that he is delusional," said the source.
"Despite knowing Oksana for just a few weeks, he calls her his 'best friend in the world' and bequeaths to her 100 percent of his assets."
We first reported Herzog's stunning and unbelievable claims that he wrote in an email to Grigorieva on September 17, last year.
"I fear that Mel Gibson may try and have me murdered," Herzog told Oksana.
"I was told that my actions supporting Oksana Grigorieva have greatly disturbed and angered Mel Gibson and that he has made comments about having me killed."
Herzog has claimed he is writing a tell-all book in which he will publish thousands of text messages and emails that purportedly prove he was intimate with Grigorieva, including one photo he released showing a scantily-dressed Grigorieva sitting on the edge of a bed with her arm supposedly around him.
Article continues below advertisement