NEW PHOTOS: Mel Gibson In Costa Rica As Prosecutors Decide His Fate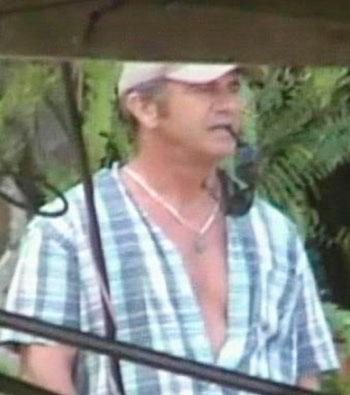 Mel Gibson isn't hanging around Los Angeles waiting for the District Attorney to decide his fate. Mad Mel has taken off for Costa Rica and RadarOnline.com has obtained these new photos of the actor/director looking pretty cheerful.
NEW PHOTOS: Mel Looks Happy In Costa Rica
As RadarOnline.com reported exclusively, prosecutors met with Mel's attorney Blair Berk on Tuesday and are close to filing domestic violence criminal charges against the Oscar-winning actor/director stemming from his physical encounter with Oksana Grigorieva on January 6, 2010.
Article continues below advertisement
District Attorney Steve Cooley released a statement Wednesday confirming the meeting and saying that a decision will be made public in a "timely manner."
Gibson is obviously not letting the legal drama affect his travel schedule and it's fitting that he's back in Costa Rica because that's where the first photos were taken that revealed Mel and Oksana's romantic relationship.
RadarOnline.com published those photos exclusively on March 12, 2009 showing Mel in a romantic embrace with Oksana on the beach. Until that point no one knew Mel had a secret girlfriend. Mel's wife Robyn filed for divorce one month later, and Mel, who also later filed for divorce, claimed his marriage had been over since 2006.
Now Mel is back in Costa Rica, where he owns a home, while his legal team is doing everything possible to avoid criminal charges being filed against the star. Prosecutors have honed in on a charge of domestic violence/corporal injury involving a former cohabitant, multiple sources tell RadarOnline.com exclusively. It can be treated as a felony or misdemeanor.
And as the criminal charges loom, Mel's family court battle with Oksana, the mother of their baby daughter Lucia, continues to rage.
MORE ON:
hollywood happenings
Article continues below advertisement