Exclusive
EXCLUSIVE: Martin Sheen Wants Charlie Back In Rehab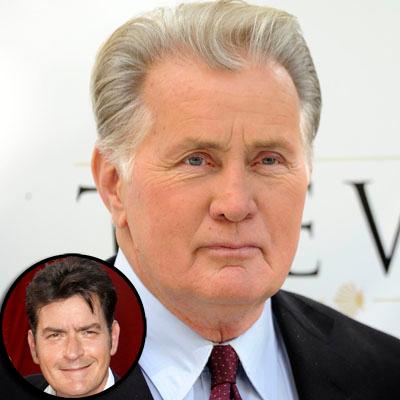 UPDATE: Charlie Sheen's rep tells RadarOnline.com the actor left the hospital Thursday night and will be on the set of Two and a Half Men on Tuesday.
Martin Sheen wants his son Charlie to go back to rehab, RadarOnline.com is reporting exclusively.
Martin showed up at Cedars-Sinai Medical Center on Thursday after Charlie was rushed there by ambulance.
And while the Two and a Half Men star did not suffer an overdose, as RadarOnline.com was first to report, Charlie had been partying for days, snorting and smoking cocaine.
Article continues below advertisement
RadarOnline.com obtained the first photo and video of Martin at the hospital to see Charlie.
"Martin is extremely upset as you can imagine," a source close to the family told RadarOnline.com. "He's worried Charlie is going to kill himself.
"Martin has jumped in before when things got really bad with Charlie and even told a judge that Charlie needed rehab. He's not afraid to speak his mind."
Sheen was severely dehydrated and anemic when brought to the hospital, sources told RadarOnline.com exclusively.
"His white blood cell count was also elevated," another source said. That indicated an infection, and Charlie recently battled an ear infection.
Doctors suspect that Sheen has some type of ulceration and want to perform more tests. One test being considered is having Charlie swallow a pill with a tiny camera in it. The camera allows doctors to search for ulcerations.
And while this latest Sheen-capade was not a drug overdose it clearly was tied to his out-of-control drug use.
Article continues below advertisement
SEXY PHOTOS: Charlie's Porn Star Bree Olson
As RadarOnline.com reported, Sheen had very little sleep since Monday, as he partied with porn stars, including Melanie Rios and Kacey Jordan.
Jordan has already shopped her story and said in an interview that Charlie was "wasted" when she got to h is house. She challenged him to a drinking game and eventually, "there was that phone call for the drugs." A guy came over with a "satchel", sat at the kitchen table and dumped out "5 8-balls."
"I don't really do this stuff," Jordan said. "He (Charlie) took a chunk... and shoved it right into the pipe and was smoking it. He came over and said don't you want to give me a kiss and blew it right in my mouth."
After smoking coke, Sheen watched porn AND continued to smoke cocaine.
Jordan was not at Charlie's house when the actor was transported to the hospital. His party raged for days and she was already gone.
Article continues below advertisement
Close sources told RadarOnline.com that he also snorted cocaine and medical literature indicates that can cause ulcerations.
Sheen, 45, was "not alert" by the time paramedics got to his house.
Charlie's encounters with porn stars and drugs have grown worse in recent month. In New York he hired Capri Anderson as an "escort" and then partied all night until flipping out. Police were called to his hotel room and found Anderson locked in the bathroom.