Exclusive
EXCLUSIVE: Sheen Dehydrated With Low Red Blood Cell Count, Docs Suspect Ulceration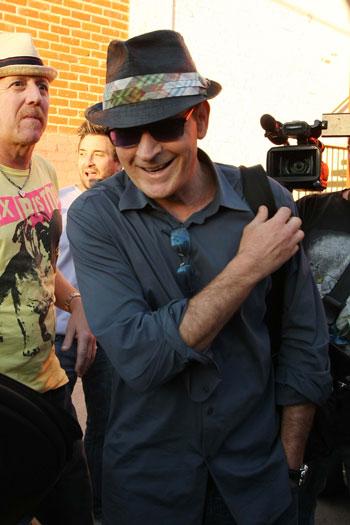 Doctors ordered more tests for Charlie Sheen as they strongly suspect he has an ulceration, RadarOnline.com has learned exclusively.
The Two and a Half Men star was rushed to Cedars-Sinai Medical Center by ambulance early Thursday. He left the hospital late Thursday night, but his medical ordeal is likely not over.
"Charlie's red blood cell count was low and his white blood cell count was high," a source close to the star told RadarOnline.com. His high white cell count likely indicates an infection; Sheen recently battled an ear infection.
Article continues below advertisement
The source added "Charlie was also dehydrated when brought in."
Reports that Charlie did not overdose on drugs are true – but the star had been partying virtually non-stop for days, RadarOnline.com learned.
"He smoked cocaine and snorted cocaine and had almost no sleep since Monday," the source said.
His father Martin Sheen showed up at the hospital and the source says Martin does not want docs to release Charlie.
"Charlie needs to be in rehab and Martin knows it," the source said.
EXCLUSIVE VIDEO & PHOTO: Martin Sheen Visiting Charlie At The Hospital
Doctors are considering performing a test where Charlie will swallow a tiny camera that will allow them to locate the ulceration.
A source close to Charlie says that his cocaine use likely contributed to an ulceration. WebMD contains this information about the relationship between cocaine and ulcers:" Gastrointestinal tract. Cocaine constricts blood vessels supplying the gut. The resulting oxygen starvation can cause ulcer, or even perforation of the stomach or intestines. "
Article continues below advertisement