Exclusive
EXCLUSIVE INTERVIEW: J-WOWW Naked Photos Show 'Tons Of Cellulite,' Says Her Ex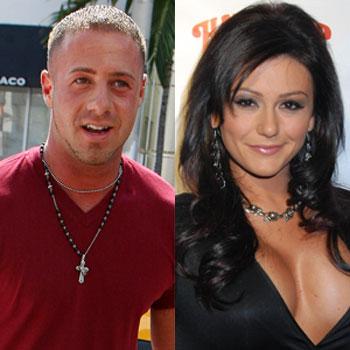 When breakups end up in court, they sure get ugly.
And that's certainly true for Jersey Shore star Jenni "J-WOWW" Farley who is battling her ex-boyfriend, Tom Lippolis, to avoid paying him management fees and to block him from selling nude photos of her taken before and after she had her second breast augmentation and liposuction.
RadarOnline.com spoke exclusively to Lippolis about the photos, and he offered his opinion about why the reality star wants to keep those shots under wraps.
Article continues below advertisement
"Before she had her second breast augmentation, she was uneven, scarred, deformed and had tons of cellulite," Lippolis told RadarOnline.com.
"There were two-inch scars on her nipples and after the surgery, they had stretched the skin and removed the scars."
Going under the knife has helped JWOWW attain her well-known curvaceous body and enabled her to wear her very own provocative and revealing clothing line.
So it makes sense the 25-year-old star is working hard to avoid the release of the unflattering snapshots.
"She is really concerned I'm going to sell nude photos of her," Lippolis told RadarOnline.com.
"She doesn't want people to see what she looked like before she had all her surgeries."
RadarOnline.com broke the story that JWOWW filed an Order To Show Cause at Nassau County Supreme Court on Tuesday in New York, with Judge Jeffrey Brown to stop her former lover and manager from '"cashing-in" on the images.
Article continues below advertisement
But Lippolis claims she is just using the photos to avoid the real issue... money.
"Her motion is totally unrelated to my original lawsuit for unpaid wages. This motion is her way to retaliate because she doesn't want to pay me," he told us.
'I didn't even try to market the pictures, but after I filed the lawsuit she decided to make this an issue.
"She is just upset because I have this over her head."