EXCLUSIVE: Amber Portwood Admits She Has Been 'Unfit Mom'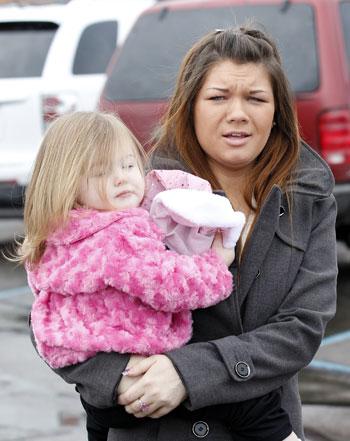 Teen Mom star Amber Portwood appeared at a 'closed doors' child protective custody hearing in Indiana on Wednesday and finally admitted that she had been an 'unfit mom' to her baby daughter Leah, RadarOnline.com can exclusively report.
Portwood appeared before Judge Jack Brinkman at Madison County Court for an update on her custody case after Leah was temporarily placed in Gary Shirley's care in November of last year.
Article continues below advertisement
At this original hearing Portwood denied ever striking Gary in front of their daughter and that her home at the time was not fit for the two-year-old to live in because it had no furniture.
But RadarOnline.com understands that Portwood 'withdrew her previous denials' at Wednesday's hearing which Shirley also attended.
Portwood is currently out on bail after being arrested on felony and misdemeanor charges stemming from a broadcast of Teen Mom back in September, in which she was caught on camera striking Shirley.
The infamous reality star still has primary custody of Leah but is under strict supervision by Child Protective Services and if they find that her living situation is unsuitable or that Leah is in any danger, she will be returned to her father.
The controversial 20-year-old reality star has had a string of legal troubles in recent times.
Portwood was pulled over by Indiana State Police on December 15, 2010, on suspicion of driving under the influence, but cleared after a breathalyzer and given a ticket for driving with a suspended license.
Article continues below advertisement
And on December 2010, Portwood was charged with three counts of domestic battery and one count of neglect of a dependent by the Madison County Prosecutor's Office and spent the night in jail after turning herself in, resulting in the 'No Contact Order' with Shirley.
RadarOnline.com revealed how Leah has been spending more time with Gary's new girlfriend Autumn Jones in recent weeks.
Shirley has been quietly dating Autumn for nearly a month and not only is she playing second mother to Leah, but she has one-year-old daughter of her own named Kalaya.
Gary and Amber have been communicating with each other despite the court ordered 'No Contact Order' that prohibits them from doing so - it's understood that Leah splits her time with both Gary and Amber each week.
Judge Brinkman ordered both parties to appear before him once again at a later date for a custody update.
RELATED STORIES:
EXCLUSIVE: Teen Mom Star Gary Shirley Creating Daddy & Daughter Clothing Line