Tiger Woods Excited About Big 2011 Move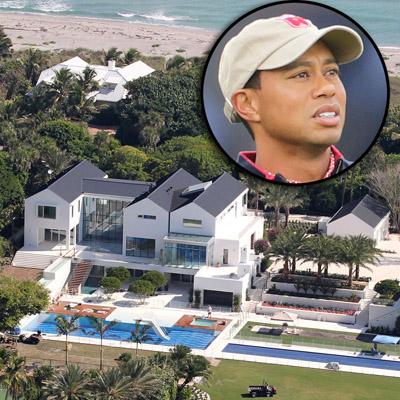 Tiger Woods is hoping for new beginnings in every area in his life and is looking forward to finally moving into his custom-built $80 million mansion on Jupiter Island in Florida.
But the golfer better watch exactly who he invites over because as RadarOnline.com first reported over the summer, his ex-wife Elin also plans to relocate to the luxury enclave with their two kids Sam and Charlie!
"I can't wait to get down there," Woods said at Sherwood Country Club on Thursday, where he took the first-round lead at the Chevron World Challenge.
Article continues below advertisement
In a brief interview with ESPN.com, Woods could not pinpoint an exact date, but after years of construction, it is finally within sight. "It depends on wiring, furniture, all that stuff," he said.
Both Woods and his ex-wife are getting ready to move from the gated community in Isleworth outside of Orlando - where his now infamous SUV crash, which sparked a string of infidelities which led to their divorce, took place.
The new mansion is nearly completed and has a 9,500 square foot gym plus an oxygen therapy room, two amenities that were obviously built for Tiger.
Woods' new home will be on a 12-acre parcel located between the Intracoastal Waterway and the Atlantic Ocean.
He bought the property in 2006 and 2007 for $44.5 million, then endured zoning and permitting issues as he had the structures on the property razed so he could erect a new home.
Article continues below advertisement
There had been rumors that Elin would return to her native Sweden but it now looks like she'll retain a base close to her famous husband which is good news for their children at least.
Woods admitted leaving Isleworth will be bittersweet to ESPN.com
"I'm going to miss the members," he said. "There are a number of great guys there. A lot of the kids I've grown up with, helped teach, played golf with over the years -- I'm going to miss those guys, being able to get a game with them in the afternoon or go lift in the gym. There are some really good kids there. Really going to miss those guys."