Exclusive
PHOTO: Tiger Woods -- Throwing His Muscle Around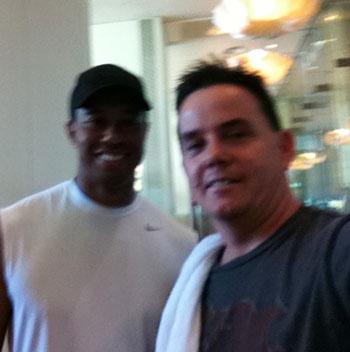 Tiger Woods is getting hot and sweaty -- again -- at the same hotel where his sex trysts with Rachel Uchitel unraveled and exposed his secret double life.
The serial swinger worked on his fitness in Melbourne, Australia, hitting up a gym at the Crown Towers Hotel on Tuesday, RadarOnline.com is reporting.
In town for Australian Masters later this week, the 34-year-old was spotted with members of his entourage including his caddy Steve Williams and worked out for about two hours.
Article continues below advertisement
One gym-goer approached Tiger and was lucky enough to grab a photo with the champion golfer.
FIRST PHOTOS: Tiger Out Of Rehab
"I met him last year and asked for a photo but he declined. He was a bit grumpy," said Sydney builder Sean Piper, pictured.
"But he was fine this time around. He seemed in really good spirits.
"He was lifting really heavy weights with (Spanish golfer) Camilo Villegas and the two of them were joking."
As RadarOnline.com reported, Tiger has checked into the same posh Australian hotel where he romped with mistress Uchitel -- a tryst that would eventually cost him his marriage.
He took the 35th floor at the Crown Towers hotel, ahead of his appearance at the JB Were Masters, the same tournament he won last year.
But not soon after his private life was exposed when when a National Enquirer reporter watched as Uchitel checked in to the Crown Towers and went up to the 35th floor, which houses the hotel's ritzy VIP Suite and saw the two.