Tiger's Mistress Calls His Wife A Gold Digger In Tell-All Book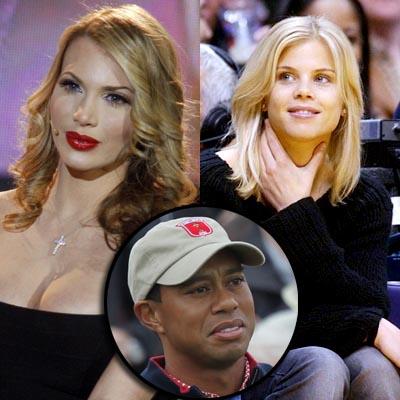 One of Tiger Woods' alleged mistress is $pilling explosive charges about her time with the golfer – for profit.
Loredana Jolie has written a tell-all book titled Loredana Jolie dishes in "The Real Diary: Lessons from the Good Time Girl to Champion" and according to the New York Post she paints Tiger's wife Elin Nordegren as an uncaring gold digger.
Her other shocking charges include that Tiger was "kind of" addicted to pills and she saw him taking sleeping pills and painkillers; that the champion golfer fantasized sexually about men and participated in threesomes with Jolie and other women.
Article continues below advertisement
Jolie, 27, is an escort and according to the Post she writes: "He liked to watch girl-on-girl, and the girls would occasionally join us. I would make him fantasize. I would ask him what if I had another guy here with me while he was there with me. It kind of turned him on a little."
Her book goes on sale next month as the one-year anniversary of Tiger's famous Thanksgiving crash into a tree approaches. That crash happened after the National Enquirer exposed his affair with Rachel Uchitel and it triggered the revelation of his secret cheating life and led to his stint in rehab for sexual addiction.
And now it's time for the first tell-all book.
While praising Tiger's sexual prowess, Jolie slams his wife. "Obviously they didn't have such a close relationship because if I was in his house where the hell was she?" she writes, according to the Post.
"If I had my husband, I would make sure I know who was coming to my house. At that point I started realizing it was more (or) less financial reasons why they were married -- she was in it for the money."
Article continues below advertisement
Jolie says she had a sexual relationship with Tiger from 2006 to 2008 and took $15,000 from him once, according to the Post.
And like many of Tiger's women, Jolie says she received sexy text messages and photos from the golfer.
Apparently so enthralled by Tiger's prowess, Jolie fumbles for words and can't decide which cliché is more appropriate to describe how she felt with him – being in Seventh Heaven or on Cloud Nine. So she writes: "When I was having my relationship with Tiger. I was like on the seventh cloud especially from a sexual perspective." she raves, apparently confusing Cloud 9 with seventh heaven. "There is at least no doubt about the fact that Tiger was awesome in bed."