Exclusive
EXCLUSIVE: Porn Star & Husband In Racist Rant Over Their Alleged Tiger Woods Sex Tape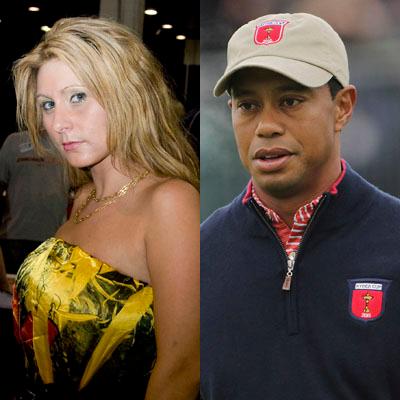 The porn star who claims to have made a sex tape with Tiger Woods went on a racist rant - along with her husband - against the man who is alleging the tape is fake and that he was hired to impersonate Tiger for it, RadarOnline.com has exclusively learned.
EXCLUSIVE: Read The Racist Facebook Exchange
Devon James and her husband Nick are selling what they're boasting is James' sex tape with Tiger.
They have a Web site that is taking preorders, but they have yet to produce evidence the tape actually exists.
Article continues below advertisement
Now, Devon and Nick have called Teneal Goyco, the man who says he was hired to impersonate Tiger, the "N" word.
They spewed racist taunts at Goyco in a Facebook exchange that was intended to be private, but was reviewed by RadarOnline.com.
"We have never even met your n**ger a**," Nick wrote, adding that he wants to fight Goyco.
And, while threatening to sue Goyco, he wrote: "what you gonna run away from process server... I heard black people are fast but not that fast."
Nick also added: "I'll beat that bell pepper nose off your lying black a** motherf**ker."
Goyco claims that Nick and Devon paid him $1,000 to have sex with Devon while they filmed it. He also told RadarOnline.com that she called him Tiger throughout their sexcapade and said she was fulfilling a fantasy about the golfer.
Now he says he realized that he was used and believes it is for the sex tape they are selling which he says is fake.
Article continues below advertisement
Nick and Devon claim they have never met Goyco and that they will sue him. Goyco hired Los Angeles attorney Stephanie Ovadia, who told RadarOnline.com she is investigating the situation to see if there is any misrepresentation.
Meanwhile, Nick and Devon have not produced any proof that their sex tape is real. At one point last week, Devon said that still photos from the tape would be posted on their Web site late last week.
That never happened.
And while Nick has insisted the tape is real, he has consistently refused to show RadarOnline.com any proof, including stills from the tape.
At one point, he offered to show us photos if RadarOnline.com paid him $100,000. (We declined.)
NEW PHOTOS: Life Is A Beach For Tiger Woods' Mistress Rachel Uchitel
The drama likely will be wrapped up by November 15. That is when the alleged Tiger sex tape is scheduled to come out, according to James' Web site.