Exclusive
EXCLUSIVE: Legal War Breaks Out Over Alleged Tiger Sex Tape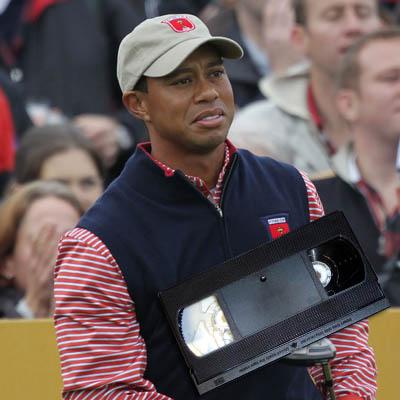 Lawyers for a Florida hooker who is selling a sex tape purporting to feature Tiger Woods are demanding an apology from a Philadelphia boxer who claims he was paid to pose as the golf great.
Teneal Goyco, 29, claims porn star Devon James and her husband Nick paid him $1,000 to step in as a "Tiger look-a-like" and fulfill her fantasy of romping with Tiger.
Speaking exclusively to RadarOnline.com, Devon's husband, Nick James, revealed the couple's legal team had made contact with Goyco's attorney, Stephanie Ovadia, to demand he admit he "has not even met us" -- or else face a lawsuit.
Article continues below advertisement
And he also claimed pre-sales of the alleged XXX video have already netted $141,000.
"Teneal is about to learn the hard way that you shouldn't jump in front of a moving semi," Nick said.
"We will not only sue him but sue the attorney, and put in a bar complaint for her taking frivolous lawsuits."
According to Goyco, he taped the sex scenes with Devon late this summer and she and her husband had him "dress" like Tiger, with a Nike hat and sweater vest.
He also said that Devon called him "Tiger" throughout the filmed 'tape trick'.
Ovadia, who became Goyco's legal counsel on Tuesday, told RadarOnline.com Tuesday night: "We're still investigating the matter to see if there was any misrepresentation."
She promised Goyco would "take every legal avenue available" against Devon and Nick "if in fact there has been a misrepresentation by the parties".
Claims of Tiger's sex tape fake made front page news after RadarOnline.com revealed Goyco had come forward to claim he was a paid ringer to romp on camera with James.
Article continues below advertisement
Devon James, who is peddling a purported "real" sex tape of her and Tiger, told RadarOnline.com exclusively: "I literally have no clue who this person is.
"What I can promise you though... is that my attorney will be crushing this."
Nick, who brokered the tape to a DVD production company for $350,000, said he would "not stop until it is known that he (Teneal) is a fraud".
Despite the tough talk, neither Devon or Nick have offered any proof of the tape and they have repeatedly refused to allow RadarOnline.com to view any portion of the film to prove it is indeed the golf great.