PHOTOS: Randy Quaid Is Pretty In Pink; Doggin' It In Canada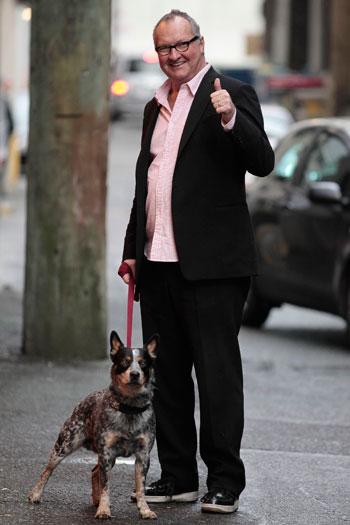 In an attempt to escape the "star whackers" of Hollywood, Randy and Evi Quaid have taken refuge in Canada and RadarOnline.com has the latest photos of the Christmas Vacation star walking his dog Wednesday in Vancouver.
The quirky couple has been the center of controversy since they skipped out on numerous hearings in a Santa Barbara courthouse for illegally squatting in a home they used to own and for defrauding an innkeeper after skipping out on a hotel bill.
Article continues below advertisement
The pair requested asylum in Canada – insisting that "star whackers" who targeted other famous celebs such as Heath Ledger are out to kill them.
As RadarOnline.com previously reported, the Quaids forfeited $1 million in bail they posted following their October arrest for felony vandalism by remaining in Canada instead of showing for their California hearing.
RadarOnline.com can confirm a motion for extradition of the Quaids from Canada has still not been filed at this time.