PHOTOS: Bikinis! Hollywood's Hottest Child Stars Grow Up And Strip Down!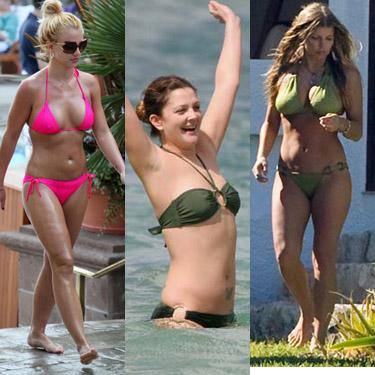 These child stars have blossomed into critically acclaimed actresses -- and smoking hot bikini babes!
RadarOnline.com has compiled photos of sexy stars who got their careers started earlier than most -- and years later still bring the most heat to the big screen and the beach.
Drew Barrymore is one of the most famous child stars of all times. Born into a Hollywood family, the adorable blonde skyrocketed to international stardom at the age of six with E.T. the Extra-Terrestrial and scored a Golden Globe nomination before the age of ten for Best Supporting Actress for Irreconcilable Differences.
Article continues below advertisement
Growing up too fast, Drew spent her teenage years battling her personal demons, finally landing in rehab at the age of thirteen. Though Hollywood had given up on her, the determined star refused to quit, managing to resurrect her career one day at a time. Now one of the most successful women in Hollywood, Drew also has one of the hottest bikini bodies on the beach!
Kirsten Dunst also started acting at a young age, scoring the role of a lifetime at 12-years-old. Cast alongside Brad Pitt, Christian Slater and Tom Cruise in Interview with a Vampire, the young star skyrocked to fame and scored a Golden Globe nomination playing child vampire Claudia. Kirsten has continued to make a splash in Hollywood-and on the beach in her barely there bikini!
See Kirsten's fat-free bikini bod.
Scarlett Johansson has one of the hottest bods in Hollywood, but before her bikini curves were making traffic swerve she was perfecting her thespian skills! ScarJo was only ten when she made her bigscreen debut in North, going on to receive an Independent Spirit Award nomination at the ages of twelve for Manny & Lo.
See ScarJo make a splash in her swimsuit.
And before she was Fergalicious, Stacy Ferguson was singing and dancing her booty off on Kids Incorporated! Scoring a part on the popular children's show at the age of nine, the sexy singer has had several years to tune up her voice-and her rock hard body.