Exclusive
EXCLUSIVE: Missing Vegas Showgirl Believed Ex-Boyfriend Cheated On Her, Says Best Friend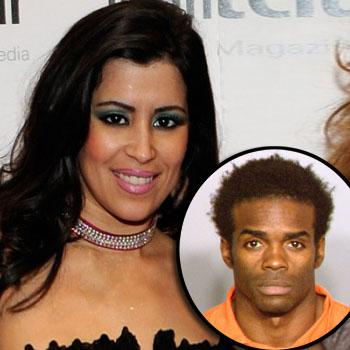 The Las Vegas showgirl who disappeared without a trace believed her violent boyfriend had cheated on her, according to the woman's best friend, who spoke out exclusively to RadarOnline.com.
Debbie Flores-Narvaez, who went missing more than a week ago from her home, was said to be pregnant by her ex-boyfriend, Jason 'Blu' Griffith, who in October was arrested on domestic abuse charges.
As RadarOnline.com previously reported, Griffith is not considered a suspect and is cooperating with police in its investigation.
Article continues below advertisement
Speaking exclusively to RadarOnline.com, close pal Merriliz Monzon revealed Debbie, 31, confided to her that she had recently made an unsettling discovery about Griffith.
"She believed he cheated," Monzon said.
The pair had spent the day together on December 9, eating dinner and shopping at Victoria's Secret where Debbie bought a belated birthday gift for her best friend.
Three days later, the former Washington Redskins cheerleader disappeared.
But shortly before they said their goodbyes, Monzon said Debbie took a call from her ex-boyfriend Griffith, a fellow Vegas dancer, who police say was the last person to see her alive.
Monzon told RadarOnline.com that while her friend was on the phone with Griffith, she was crying and said: "Just wait for me, wait for me, respect me, respect me don't leave, don't leave!"
What's more, Monzon said Debbie confessed she couldn't believe she found out Griffith was cheating on her through other friends and colleagues.
MORE ON:
Celebrity Justice
Article continues below advertisement
Monzon said she told her friend she deserved better.
Sadly, this past Friday, the two friends were supposed to get together for a dinner party at Debbie's home and then spend Christmas together with Monzon's family.
Monzon said Debbie was depressed about not being able to go home for the holidays, but was so committed to her dance show she wouldn't take vacation claiming there is "no way she would voluntarily miss her show."
Monzon is praying for her friend's return and even has her gift ready: a scarf from the Philippines and a rhinestone ring.
As RadarOnline.com previously reported, Griffith was arrested on October 22 and charged with one count of domestic-violence-related battery, a misdemeanor and one felony count of coercion, after a fight with Debbie.
He had kicked her and pulled her hair and she had bruises on her legs, according to police, who wrote in their report that chunks of the missing woman's hair were recovered at the scene.