EXCLUSIVE INTERVIEW: Hulk Hogan Security Guard 'Sorry' For Wedding Fight With Photographer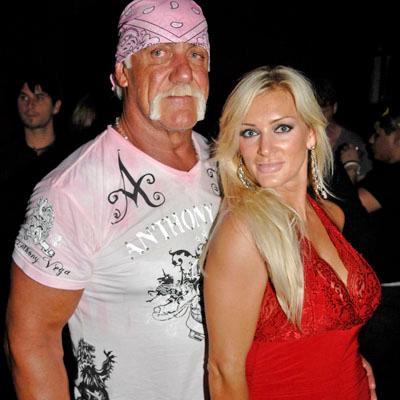 Hulk Hogan's security guard Ron Howard says he's "sorry" for the fight that erupted at the wrestling superstar's wedding to Jennifer McDaniel.
Howard -- who is consulting his lawyer about the fracas in which paparazzi Robert Martinez allegedly grabbed his throat and told him he had a gun -- was sad that the situation quickly escalated out of control.
Read The Extensive Police Files On The Incident
He exclusively told RadarOnline.com on Thursday: "I'm sorry it happened. It wasn't meant to be in a bad way.
Article continues below advertisement
"I just wanted to politely ask the gentleman what he was doing because he looked very suspect, and I didn't want anyone ruining my friend's wedding so I just went out there on my own."
Clearwater Police Officer Michael Williams intercepted the two men has they fought on the beach on Tuesday, December 14 and warned the photog not to air the footage
That's according to the officer's official report, which has been obtained exclusively by RadarOnline.com .
EXCLUSIVE DOCUMENT: Police Officer's Report From Hulk Hogan Wedding Brawl
As RadarOnline.com previously reported, photographer Robert Martinez and Ron Howard, who was working security for Hulk, got into a physical altercation Tuesday night. Martinez was on the beach filming Hulk's outdoor wedding to McDaniel.
According to the report, Howard told police Martinez choked him. The photog claimed he was on public property when Howard harassed him.
Article continues below advertisement
"I looked over the video in the camera," Officer Williams wrote. "I did see a quick glimpse of Martinez's hand on Howard's throat. But I cannot say if he put it there on purpose of by accident (sic) during the physical confrontation. I did hear Martinez state 'I have a gun.'"
The officer also says that Martinez lunged at Howard, even while being escorted away from Hulk's property.
It all took place in Clearwater, Florida where Hulk is very popular. People close to Martinez say they believe the former wrestler is getting more than the benefit of the doubt here.
Officer Williams notes in his police report that it appear the photog is on private property. "It looked like he was hiding behind bushes and on other private property," he wrote after watching the video.
"I explained that Howard did not want to press charges and that the video on his camera is considered evidence. I told him that since Howard did not want to press charges that I would not seize the video, but it would be in his best interest not to air that video."
Article continues below advertisement