Exclusive
EXCLUSIVE: From Housewife To House Music -- Danielle Staub Recording Solo Album Of Party Music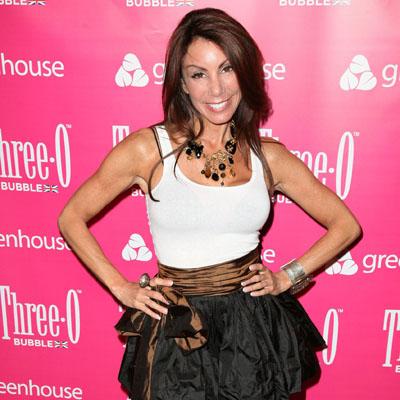 Article continues below advertisement
This was a big year for the reality star who released two singles -- Real Close and Cry -- hosts Wealth TVs Social, is packaging her own reality show, and now has record labels vying for her.
"I actually have two huge labels shopping me," revealed the budding songstress who wants to show off her pipes with a whole new sound early in the new year.
"For me, it's about connecting with the club scene and being happy and bringing a great vibe," revealed Danielle. "I'm ready to give a message of happiness and it's going to be great. It's going to be house music and I'm definitely a pop artist."
The sexy housewife will also be penning her own lyrics.
"I'm writing my own music too, but I do have to give credit where credit is due. I will probably have a co-writer or two in the future. I will be putting up the first few as my own."
And she doesn't have to look far for inspiration.
"My daughter Gillian because she is a pop rock artist," she said. "Before I can put hers out I have to pave that path for her. And she is my inspiration and she helps to keep it real and young. Then there is Christine, who is 17, and she will make sure I'm appealing to her audience age too."
Article continues below advertisement
With a new sound may come collaborations. So who is on Danielle's wish list?
"I love 50 Cent. Who wouldn't want to collaborate with Kanye, who wouldn't want to collaborate with Usher? All those names just to say, 'yeah, I'll lay down a line or two in a song for you.' That is my dream and goal.
EXCLUSIVE VIDEO: NJ Housewife Danielle Staubs' Emotional New Music Video
"The one female artist I would love to have in any of my songs is Rihanna. She is the s**t!" Danielle exclaimed. "She takes the stage and everyone is looking."
And even though other housewives like Countess Luann de Lesseps and Kim Zolciak have also showed the world their vocal stylings, don't look for any co-star collaborations.
"No. There is no reason to," Danielle confessed. "I'm friends with some of them privately. We keep it that way."
But first things first, Danielle will ring in the new year as host of Joonbug.com's Touch party in New York City.
RELATED STORIES: