Exclusive
EXCLUSIVE: Ashton Kutcher's Mistress Secretly Shopped Sex Tape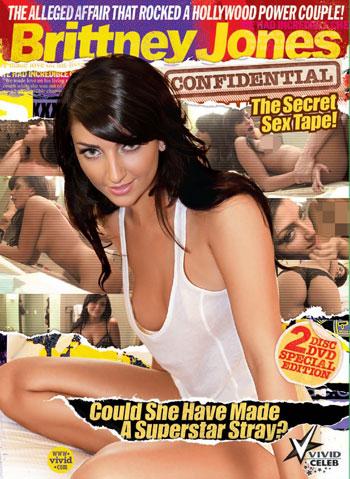 The woman who romped with Ashton Kutcher on the couch at his Hollywood mansion was in secret negotiations to star in a porn video, RadarOnline.com has exclusively learned.
Despite waging a legal battle to bar a porn producer from releasing her sex tape, Brittney Jones, 21, shopped herself to Vivid Entertainment in October!
While Jones insisted that she didn't "want it coming out and I've made that clear" during this exclusive video interview on December 10, RadarOnline.com has learned -- two-months earlier -- the Demi Moore look-alike had been actively negotiating a $50,000 agreement to release an xxx herself.
Article continues below advertisement
What's more, the brunette beauty had even secured a slice of the tape's total profits.
"The talks began in mid-October and were between Brittney, her talent manager, publicist and Vivid," a source close to the negotiations told RadarOnline.com.
"She was offered an iron clad commitment of at least $50,000 as an advance on future profits and an additional 30 percent cut of gross sales.
"She wanted the deal, which is why it was extremely curious when she told RadarOnline.com, "I don't want it coming out and I've made that clear'."
"Brittney was very interested in having the tape go to the market -- she believed it could launch her career."
The source said Jones' advisors had thought the tape could make "at least six figures, or more" in sales.
Vivid said Tuesday it planned to release the tape, titled Brittney Jones Confidential, on December 29, despite Jones and Kutcher's threats to sue the pants off the porn producer!
Steven Hirsch, founder/co-chairman of Vivid, said that while he had received a cease and desist letter from Jones' attorney Richard Sherman, he opted to move forward with distribution.
Article continues below advertisement
The movie, acquired from a third party, centers on the sexual exploits of Jones with a former boyfriend, Hirsch said.
VIDEO: Ashton Kutcher: "I Haven't Slept With My Wife"
Jones claimed to have had an intimate romp with Kutcher at the home he shares with Moore after meeting him at Hollywood's Lucky Strike bowling alley in July and exchanging phone numbers.
Kutcher adamantly denies the affair ever happened.
The Just Married actor fired off a separate cease and desist letter to Vivid after his name was initially touted on the tape's cover.
Hirsch said, in a statement, "after internal discussions and consulting with counsel, Vivid decided to move forward without using the A-lister's actual name in connection with the sex tape."
RELATED STORIES:
EXCLUSIVE: Ashton Kutcher's Mistress Was 'Obsessed With Him For Years' – New