Elin Nordegren & Kids Celebrate St. Lucia's Day At Church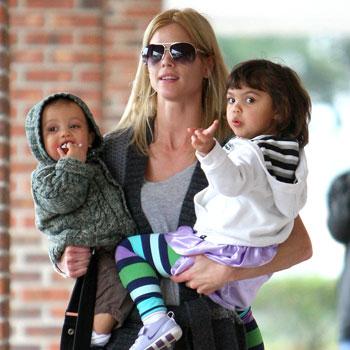 Elin Nordegren impressed onlookers with her appearance and cheerful attitude when she showed up this weekend at Boca Raton, Florida's First United Methodist Church for St. Lucia's day, an unofficial Swedish holiday.
After surviving the implosion of her marriage to Tiger Woods and the painful public revelation of his serial cheating, Elin has made great strides in putting her life back together and she joined a crowd of approximately 500 people for the Saturday event, bringing her children Sam, 3, and Charlie, 1, RadarOnline.com learned.
Article continues below advertisement
St. Lucia's Day is a day to celebrate the Winter Solstice.
"Elin and the children were dancing around the Christmas tree with other families and having such a wonderful time," a source tells People.com. "Elin had a look of contentment on her face."
Tiger's ex wife talked about spending Christmas in Sweden to visit her sister, according to the Palm Beach Post's Jose Lambiet.
Nordegren, 30, and her kids feasted on traditional Swedish food including open-faced sandwiches, meatballs and ginger snap biscuits, at the family event.
The beautiful blonde seemed remarkably different from a year ago, when her life was in such turmoil. "A year ago she snuck in and out by herself, without the kids," one source told the Palm Beach Post. "She looked drab and drawn."
But this year Elin was relaxed, happy and at ease, according to the same source, who said Elin talks to the children in Swedish.